12CBM SINOTRUK HOWO 4X2 COMPACTOR GARBAGE TRUCK
Lead Time:

20 to 30 days

Product Orgin:

China

Brand:

HOWO brand

Shipping Port:

Any Port Of China

Payment:

T/T; L/C

Price:

$38000/40000

Market Price:

$40000

Price Range:

36000-40000/0$

Color:

optional
Contact Now
Description
What is a garbage compactor and

garbage compactor

truck

working principle
When walk in the street we can see that there are many garbage compactors at work, so what is garbage compactors? How does it work? I believe you are not very clear about these two points, but it doesn't matter, today we are garbage compactor truck manufacturers to tell you what is garbage compactor truck and garbage compactor truck working principle!
What is a garbage compactor?
Garbage compactor truck is used for garbage collection and transport of sanitation vehicles. Garbage compactor truckis equipped with sealed inside body, filling machine, shovel, hydraulic transmission system and electrical control system.Garbage is dumped through the rear filler, after crushing, the compactor pressure into the truck, and loading capacity is larger than general garbage truck. The loading and unloading of garbage does not pollute the environment, but also reduces the labor intensity of cleaning workers. Rear-mounted compactor garbage truck adopts computer-controlled automatic operation device with high degree of automation.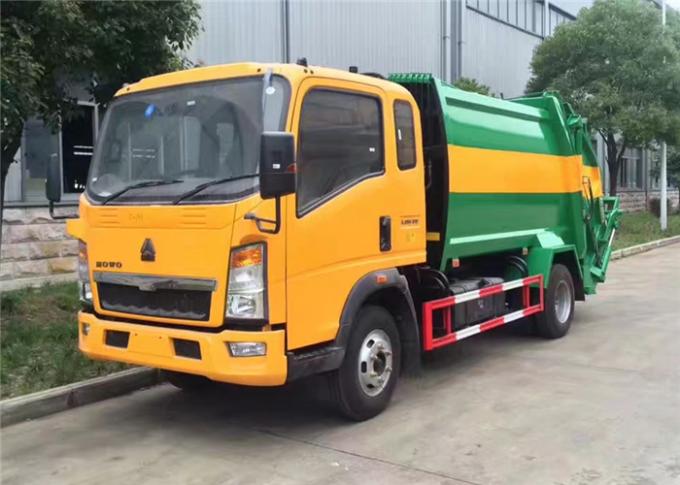 The working principle of garbage compactor truck
1. When the filling hopper is filled with garbage, the scraper is opened and ready to insert loose garbage.
2. The skateboard drives the scraper to move down together and insert it into the garbage for crushing and compactor for the first time.
3. The scraper rotates forward to further compact the garbage.
4. After the scraper is in place, move up with the skateboard, compact the garbage and load it into the garbage bin, and return to the starting position. In the process of continuous garbage filling, the push shovel recovers gradually to overcome the back pressure under the action of extrusion pressure, so that the garbage is evenly filled with the whole garbage bin.
5. After the garbage truck is filled with garbage, the dustbin is completely closed and will not pollute the environment in transit.
6. When a garbage truck unloads garbage at a disposal site (or landfill), first lift the filling device, open the back end of the garbage can, the push spade that was parked in front of the trash can moved back, along the horizontal direction, push the rubbish out of the bin.
In fact, the garbage compactor truck is very similar to the garbage truck, but it has a few more functions than the garbage truck. The way it works can save a lot of work for the sanitation workers.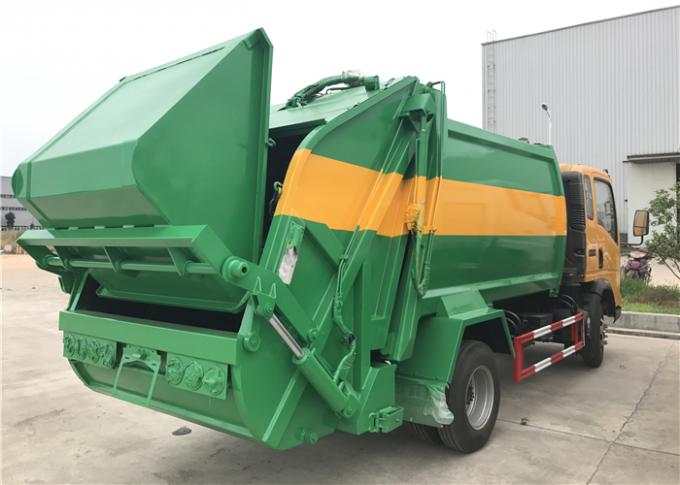 The specification of garbage compactor truck
SINOTRUK HOWO 12CBM COMPACTOR GARBAGE TRUCK
RIGHT HAND DRIVE
Model: ZZ1167G4715C1
Wheelbase: 4700mm
Driving type: 4X2
Made year: 2020, Brand New, produced according to order
Cabin: 2080, long cabin, with single sleeper, with air conditioner
Engine: YC4E160-33, 160HP, Euro III emission standard, diesel
Gearbox: DC6J65TC, manual, 6 front & 1 reverse, WITH PTO
Front axle: 3600KG
Rear axle: 10500KG
Suspension: leaf springs
Tires: 9.00R20, tube, radial steel tire, 7 pcs (including one spare tire)
Steering: hydraulic operation with power assistance
Fuel tank: 220L, Iron material
Compacting Volume: 12CBM
Overall size: 9000x2600x3000mm
Color: White (standard)