40 FT flat bed semi-trailer for carry container and dry cargo
Lead Time:

30DAYS

Product Orgin:

CHINA

Brand:

SUNSKY brand

Shipping Port:

ANY PORT, CHINA

Payment:

T/T; L/C

Price:

$10400/unit

Market Price:

$12800

Price Range:

10-50/9900$

Color:

OPTION
Contact Now
Description
Product Item:40 FT flat bed semi-trailer for carry container and dry cargo
Introduction of 3 axle flatbed trailer
‑‑‑‑‑‑‑‑‑‑‑‑‑‑‑‑‑‑‑‑‑‑‑‑‑‑‑‑‑‑‑‑‑‑‑‑‑‑‑‑‑‑‑‑‑‑‑‑‑‑‑‑‑‑‑‑‑‑
Sunsky produces the high quality 3 Axles 40 feet Flatbed Trailer for carrying 40 feet container (2 x 20ft container) and dry cargo. The 40 feet flatbed trailer payload about 40 ton . The 3 axles 40 feet flatbed trailer also called tri-axle flat deck trailer. Sunsky trailer are focus on high quality products, flatbed trailers can be changed into different configuration and custom-built as your requirement.
SUNSKY flatbed trailers have a strong body, keep a longer life span than the used and other brandsemi-trailer,this 40ft container trailers use advanced welding technology and equipment in production progress. Make the Body of flat bed trailer stronger.
Features:
­­­‑‑‑‑‑‑‑‑‑‑‑‑‑‑‑‑‑‑‑‑‑‑‑‑‑‑‑‑‑‑‑‑‑‑‑‑‑‑‑‑‑‑‑‑‑‑‑‑‑‑‑‑‑‑‑‑‑‑
1) Manufacturer, 32 years professional experience.
2) Two years guarantee term provided freely.
3) Export more than 1000 units to Africa, Southeastern Asia, and South America.
4) Products can be custom-made according to your design.

Specification:
‑‑‑‑‑‑‑‑‑‑‑‑‑‑‑‑‑‑‑‑‑‑‑‑‑‑‑‑‑‑‑‑‑‑‑‑‑‑‑‑‑‑‑‑‑‑‑‑‑‑‑‑‑‑‑‑‑‑
40FT 3-axle Flatbed semi trailer

Feature:

Carry 1X20FT、1X40FT、or 2X20FT container

Dimension(L*W*H):

12420*2480*1570mm

Main frame:

Heavy duty and extra durability design; Opting for high tensible low carbon alloy Q345B steel; I beam welded by automotive arc-submerge process

Model:

SS9500FTAX

No. of axle:

3

Payload(kgs):

50000

Tare weight(kgs):

7200

Kingpin:

JOST brand bolt-in/welded type 3.5"

Landing gear:

JOST brand two-speed manual operation 19"

Tire size:

11R22.5 (13 sets)

Rim size:

9.00*22.5 (13 sets)

Axle:

Fuwa Brand 3 Axles,13 tons

Suspension

Fuwa brand with 8pcs of leafs spring

Brake system:

Dual line with WABCO brand Re-6 emergency relay valve, MBA brand T30/30 air chamber, 46L air tank

Electric system:

One unit of 24V 7-pin ISO standard socket; with brake light, turn light, reverse light, side light, reflector, fog light; one set of 6-pin standard cable

Container locks

12(for 1x20GP,2X20GP,1X40HQ)

Painting:

S.A.2.5standard sandblasting; Two coat of anti-corrosion prime; one coat of finish painting

Accessory:

One tool box; one set of standard tool

We can build the trailers according to customer's design and requirement
Production detail:
‑‑‑‑‑‑‑‑‑‑‑‑‑‑‑‑‑‑‑‑‑‑‑‑‑‑‑‑‑‑‑‑‑‑‑‑‑‑‑‑‑‑‑‑‑‑‑‑‑‑‑‑‑‑‑‑‑‑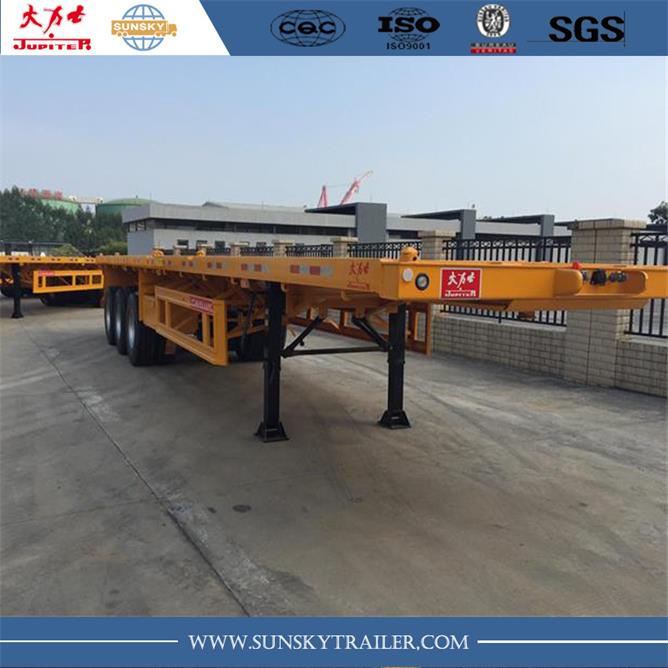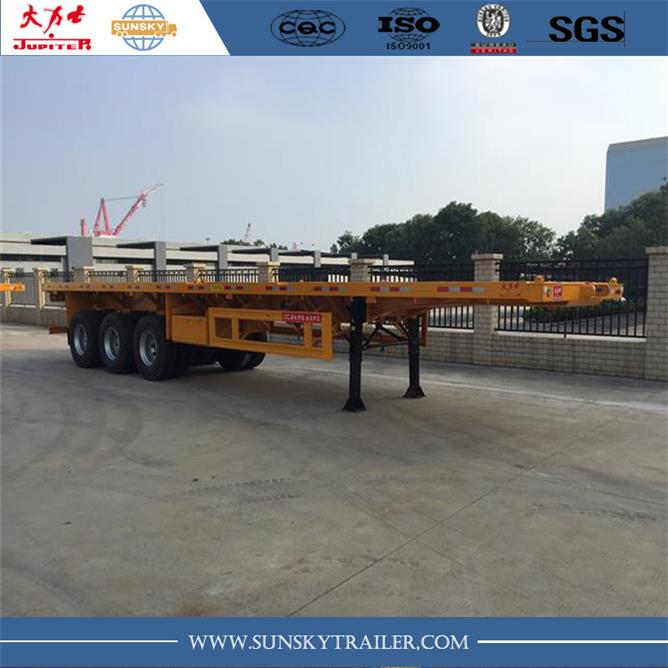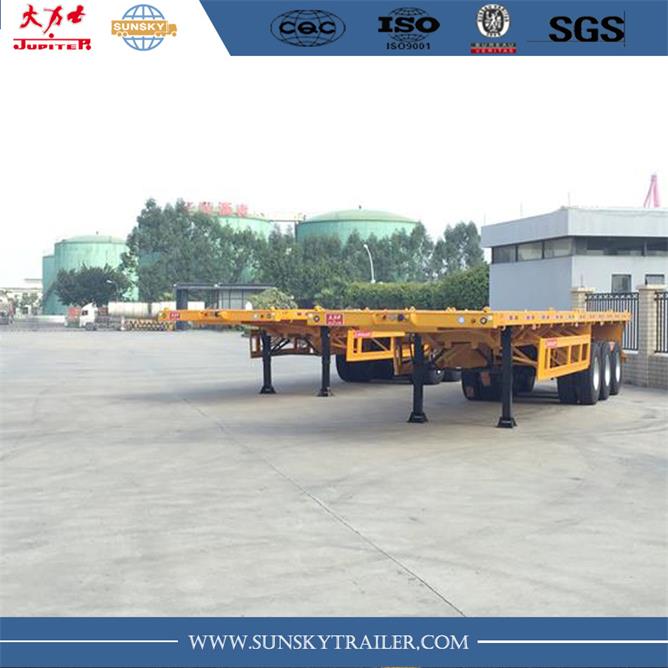 FAQ:
‑‑‑‑‑‑‑‑‑‑‑‑‑‑‑‑‑‑‑‑‑‑‑‑‑‑‑‑‑‑‑‑‑‑‑‑‑‑‑‑‑‑‑‑‑‑‑‑‑‑‑‑‑‑‑‑‑‑
1. Who are we?
Answer: We are a group company; we have three semi-trailer factories in china, one trading company in china and one company in Hong Kong. We are focus on semi-trailer, trucks and parts.


2. Why choose us


Answer: 1) We have more than 30 years experience in the trailer manufacturing. Our brand"SUNSKY" and"JUPITER" had got high reputation in china and overseas countries.
2) We have more than 20 engineers to design the kinds of trailers according to the requirement from you.
3) We had exported thousands of trailers to Africa, Middle East, Asia,Australia,South America and so on since 2006.
4) We are one of the biggest dealers of SINOTRUK HOWO truck in china, we can supply kinds of HOWO brand truck with competitive price.