40FT Flatbed semi trailer
Lead Time:

30 days

Product Orgin:

China

Brand:

SUNSKY brand

Shipping Port:

Any Port Of China

Payment:

T/T; L/C

Price:

$16300/21000

Market Price:

$20000

Color:

optional
Contact Now
Description
The 40ft flatbed trailer is known as a 40 foot Flatbed semi trailer .A 40ft flatbed semi-trailer is a type of trailer commonly used for transporting goods on the highways. It is a long and flat platform trailer with no sides or roof, making it easy to load and unload cargo from any side. The trailer is commonly made of steel or aluminum, and it is designed to haul large and heavy items that cannot be easily accommodated in closed trailers or vans.
specification
40FT Flatbed semi trailer

Feature:

Carry 1X20FT、1X40FT、or 2X20FT container

Dimension(L*W*H):

12420*2480*1570mm

Main frame:

Heavy duty and extra durability design; Opting for high tensible low carbon alloy Q345B steel; I beam welded by automotive arc-submerge process

Model:

SS9380TJZP

No. of axle:

3

Payload(kgs):

50000

Tare weight(kgs):

7200

Kingpin:

Bolt-in type 3.5" or 2"

Landing gear:

Two-speed manual operation 19"

Tire size:

Triangle Brand 12R22.5 (14sets, two spare tyres)

Rim size:

9.00*22.5(14 sets, two spare rims)

Axle:

3 Axle, 13 Tons

Suspension

Airbag suspension with first axle lifting

Brake system:

Dual line with Re-6 emergency relay valve, T30/30 air chamber, 46L air tank

Electric system:

One unit of 24V 7-pin ISO standard socket; with brake light, turn light, reverse light, side light, reflector, fog light; one set of 6-pin standard cable

Container locks

12(for 1x20GP,2X20GP,1X40HQ)

Painting:

Two coat of anti-corrosion prime; one coat of finish painting

Accessory:

One tool box; one set of standard tool

Additional:

1500L fuel tank and 50L water tank, with ABS, with metal mudguards, with hubometer, with two spare tyre racks, with 500mm front wall.
IMAGE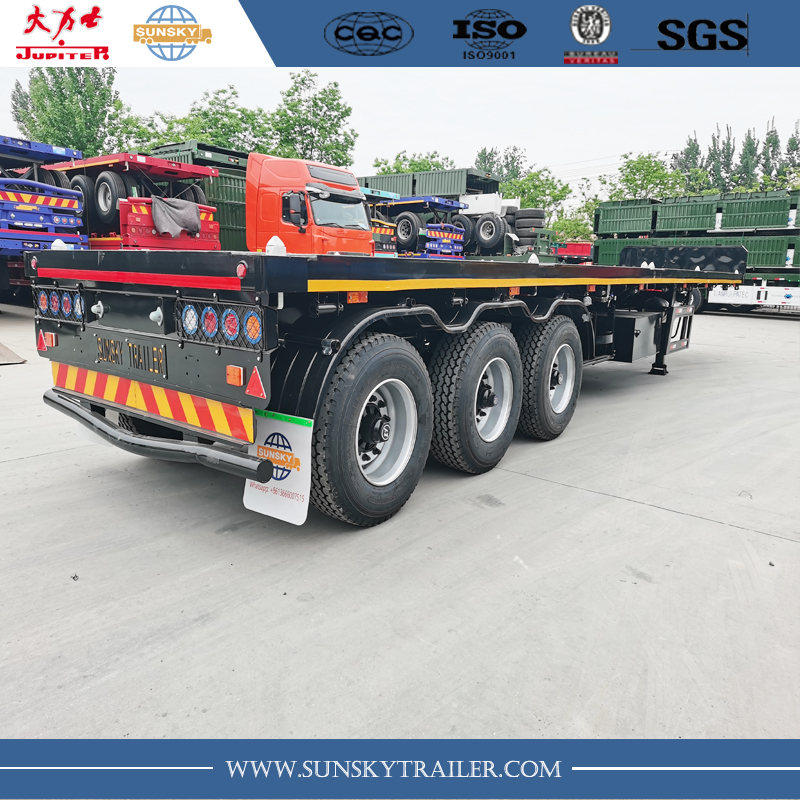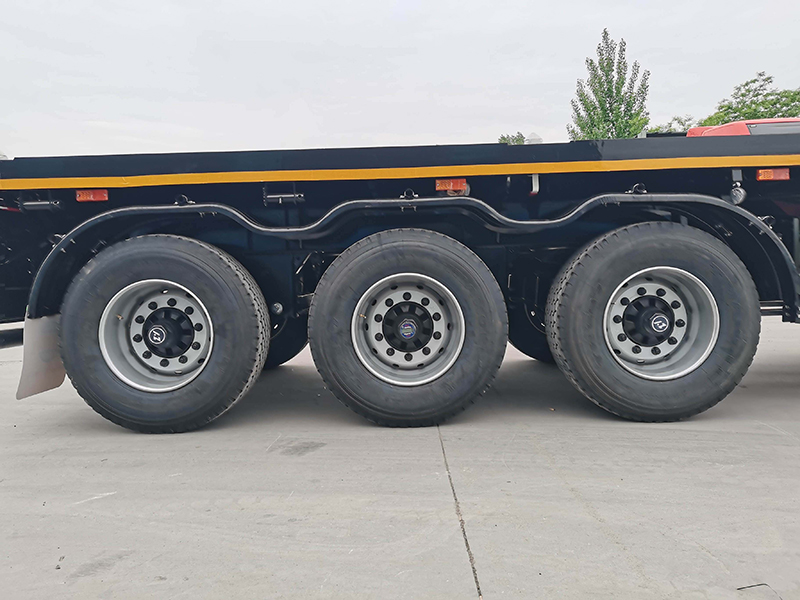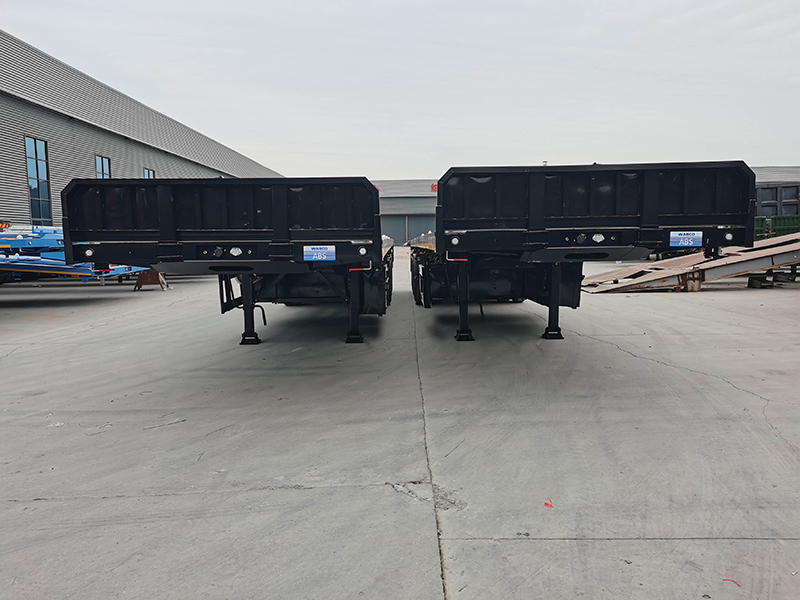 Benefits of 40ft Flatbed Semi Trailer with 3 Axles
One of the benefits of using a 40ft flatbed semi-trailer is its versatility. The flatbed design allows it to carry a wide range of cargo, including machinery, vehicles, building materials, and oversized goods that are too large or heavy for a standard trailer. The lack of sides or roof also makes it easy to load and unload cargo using cranes, forklifts, or other equipment.
Another advantage of a 40ft flatbed semi-trailer is its flexibility. The trailer can be used for both short and long-distance haulage, making it suitable for different types of businesses. It is also ideal for transporting irregularly shaped or bulky cargo that cannot fit into a standard trailer.
Furthermore, 40ft flatbed semi-trailers are designed to be sturdy and durable. They can withstand harsh weather conditions and rough terrains, making them reliable for transporting goods over long distances. The trailers also have good weight distribution, which reduces the risk of accidents and ensures the safety of the cargo.
In summary, the 40ft flatbed semi-trailer is a versatile, flexible, and reliable trailer that is ideal for transporting a wide range of goods. Its design makes it easy to load and unload cargo, and it can withstand harsh weather conditions and rough terrains.