46,000L 3 axles Fuel aluminum alloy tanker semi trailer
Lead Time:

20 to 30 days

Product Orgin:

China

Brand:

SUNSKY brand

Shipping Port:

Any Port Of China

Payment:

T/T; L/C

Price:

$16300/21000

Market Price:

$20000

Color:

optional
Contact Now
Description
According to the different use and use environment has a variety of refueling or oil transport functions, with oil absorption, oil pumping, a variety of oil loading, distributing and other functions. The special part of oil trailer is composed of tank body, force feeder, transmission shaft, gear pump, pipe network system and other components. The pipe network system is composed of oil pump, four-way ball valve, straight ball valve, filter screen and pipeline. Optional tank body and walking mechanism for bolt connection style, optional fender style.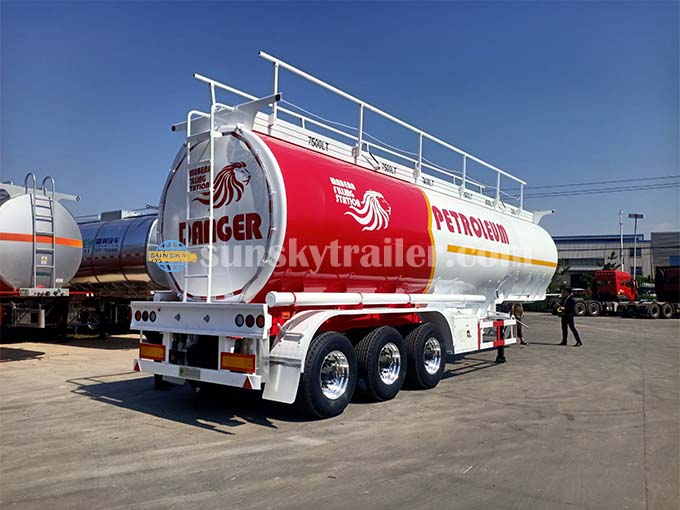 Aluminum tanker trailer have a longer life span than carbon steel tank,it can save energy and lighter in tareweight. Even price is higher,but SUNSKY control the cost strictly to ensure you get a best price and quality of aluminum tank from us.
Specification
46,000L 3axles Fuel aluminum alloy tanker semi trailer

Modle:

XMS9403GYY

Dimension(mm):

11700*2500*3850mm

Tare weight:

7200kg

Volume:

46000 liters

Tank body:

6mm aluminum alloy 5182

End plate :

6mm aluminum alloy 5182

Baffles plate:

5mm aluminum alloy 5182

Medium:

Diesel Oil,Petrol

Compartment:

6

Main frame:

Heavy duty and extra durability designed;high tensile steel,coupled by automatic welding process,

Manholes cover:

DN500 API aluminum manhole cover* 5sets.

Discharge valve:

4" valve *6sets,With product display indicator,4"-3"gravity drop coupling.

Discharge pipe:

4〞rubber hose, 2pcs

Bottom valve:

4" API aluminum pneumatic bottom valve *5sets

Vapor recovery:

without

Overflow detection:

without

Fuel loading:

Top filling

Walkway:

Ladder on the back.On top of tank, 3mm thick steel perforated, anti-slip walk away will be provided within the manual operating guardrail.

Anti-static devices:

Including ground towing,static line plate,copper.Winder equipped with

A Ø6 mm² power cable .Anti-static metallic braid connect trailor's chassis to tanker body

Axle :

FUWA Brand 13Ton *3axles

Suspension :

Airbag suspension with front axle lifting

Tire :

315/80R22.5*13units

Wheel rim:

9.00*22.5 *13pcs

Kingpin :

2" or 3.5''bolt-in king pin

Landing gear :

two-speed, manual operating ,heavy duty landing gear

Braking system:

WABCO RE6 relay valve.T30/30 spring brake chamber.40L air tanks .

ABS:

Without ABS

Electrical:

Voltage 24V, Receptacle 7 ways (7 wire harness), Side marker lamp LED type

Painting :

Complete chassis sand blasting to clean rust ,2coat of anticorrosive prime,2coats of final paint. Wax spray. Color as clients order

Accessories:

Two spare tire carrier,One tool box,One crank, One shaft head wrench.2sets ABC Dry Power fire extinguisher.