50CBM 2 Compartments Aluminum Alloy Fuel Tanker Trailer
Lead Time:

30 days

Product Orgin:

China

Brand:

SUNSKY brand

Shipping Port:

Any Port Of China

Payment:

T/T; L/C

Price:

$23000/25000

Market Price:

$20000

Price Range:

23000-25000/0$

Color:

optional
Contact Now
Description
Why does SUNSKY aluminum alloy tanker trailer hot sales?
1.SUNSKY Aluminum Tanker Trailer is suitable for transporting kinds of cargo like fuel, ethanol and crude oil etc.
2.SUNSKY trailer can produce 3 Axle Aluminum Tanker with its high technology welding machines. SUNSKY aluminum Trailer has an advantage on technical specifications which is very important for a tanker trailer. We can supply the aluminum tanker trailers for you on 300 pcs per month.
3. The 3 axle aluminum fuel tanker trailer produced by SUNSKY can be designed on a Loading capacity between 30,000 liters to 50,000 liters. Compartment quantities can be arranged from 1 to 8.
4.The SUNSKY aluminum fuel tanker trailer are popular used in many African countries like Tanzania,Malawi,Mozambique etc, perfectly tailored to the demanding requirements facing petrol station supply and haulage company .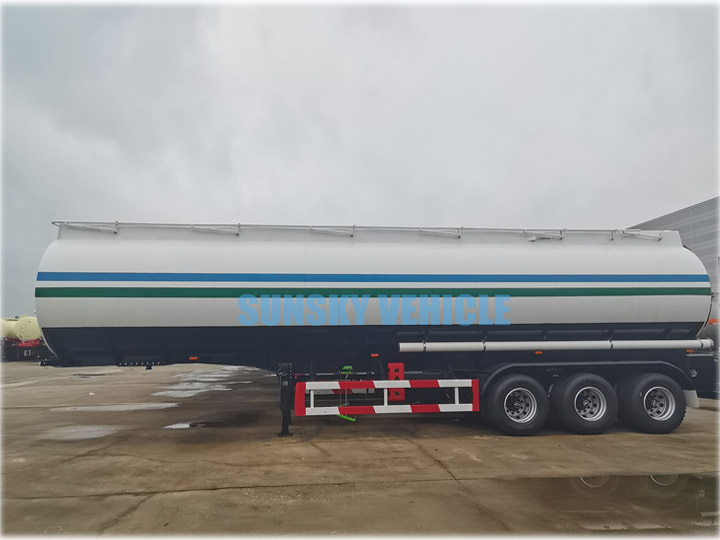 Specification
Dimension(L*W*H):

11000*2500*3700mm(30,000L)

Model

SS9300GRYX

Material:

Aluminum

Compartment:

2

Capacity(kgs):

50,000L

Tare weight(kgs):

6,000

Kingpin

The world-famous JOST brand bolt-in/welded type 3.5"/2"

Landing gear

JOST brand two-speed manual operation 19"

Tire size

11R22.5、12R22.5、315/80R22.5、385/65R22.5

Rim size

8.25*22.5、9.00*22.5、11.75*22.5

Axle

FUWA-13T

Leafs spring

Fuwa brand with 8pcs of leafs spring

Brake system

One unit WABCO RE 4 relay valve; four units T30/30 spring brake chamber; two units T30 spring brake chamber; two units reliable local brand 45L air tank; two units reliable local brand standard coppery air-connector.

Manhole:

Aluminum alloy ø500mm(20") manhole with aluminum alloy cover; with breather valve;

Discharge Valve

Aluminum alloy discharge valve with cover

Foot Valve

Pneumatic control DN80 aluminum alloy foot valves

Pneumatic Control system

1set Pneumatic Control combined switch

1unit emergency switch

Discharge Hose

2 units 3"×6M factory PVC hose with quick coupling on both ends

Vapor Recovery & Overfill system

Optional

Fire Extinguisher Carrier

2 units at the left of rear of tanker, include 2 units 8kg dry powder type fire extinguisher inside

Electric system:

One unit of 24V 7-pin ISO standard socket; with brake light, turn light, reverse light, side light, reflector, fog light; one set of 6-pin standard cable

Prime & Topcoat painting

S.A.2.5standard sandblasting ;Zinc-rich & Polyurethane painting

We can build the trailers according to customer's design and requirement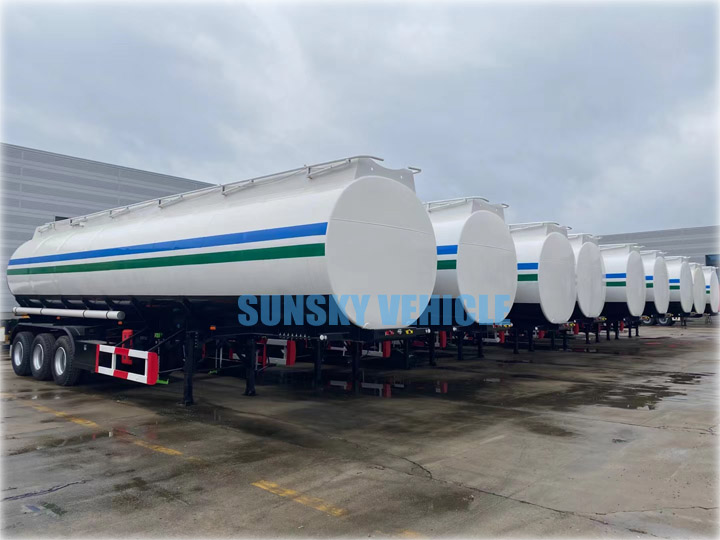 Quality Guarantee
1. More than 30 years experience in manufacturing semi-trailers since 1984.
2. One year warranty on the chassis of semi-trailer.
3. Spare parts support service.
4. The best brand-Wabco brand of braking system to ensure the brake performance and keep the driver safe.
5. Heavy duty design especially for the bad road condition in Africa.