6x4 SINOTRUK HOWO 25 tons 266HP Box Van Truck for Sale
Lead Time:

20 to 30 days

Product Orgin:

China

Brand:

HOWO brand

Shipping Port:

Any Port Of China

Payment:

T/T; L/C

Price:

$36000/40000

Market Price:

$40000

Color:

optional
Contact Now
Description
6x4 SINOTRUK HOWO 25 tons 266HP Box Van Truck for Sale
Box trucks are now more common in our daily life. There are many types of goods that can be shipped by box truck, such as cold vegetables, general merchandise, dangerous goods and so on.
The advantages of the box truck:
1. The appearance of the box truck is relatively simple. It can not only transport goods, but also be used as an ordinary commercial vehicle.
2. The price of box van truck is relatively affordable, the overall cost performance is high.
3. Now a lot of box van trucks are electric, it has more advantages, electric belongs to new energy which is the development trend of future vehicles, its environmental protection is good and economical to use.
4. The box van truck transport goods safety is better, transport efficiency is high, suitable for short and medium distance transport of goods, the box van truck body is closed, so its roof is closed, has good rainproof function, at the same time the rear of the box van is provided with a door, some side also has a door, so convenient loading and unloading goods.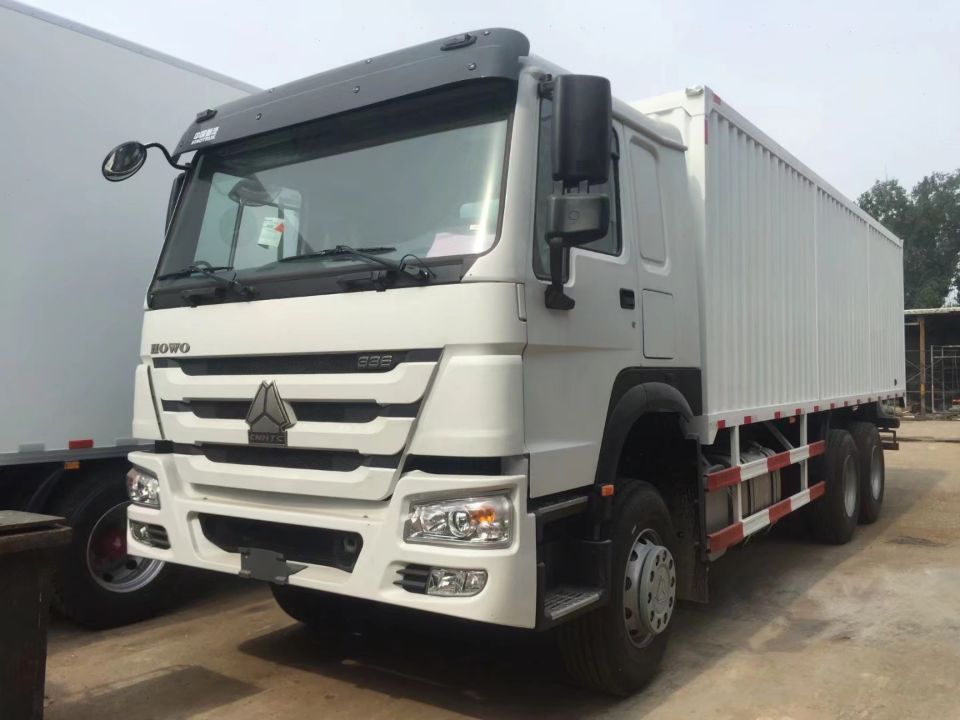 Specification of the cargo van trucks:
SINOTRUK HOWO 6x4 266HP Van Truck
RIGHT HAND DRIVE
Model: ZZ1257M4341W
Made year: 2021, Brand New, produce according to order
Cabin: HW76 standard cab with one sleeper
Engine: Engine:266HP, EURO Ⅱ emission standard, diesel
Transmission: HW13710,10 speed forward
Front axle: HF7,7 ton s
Rear axle: ST16,16 tons
Tires: 315/80R22.5,with one spare tire
Steering: hydraulic operation with power assistance
Fuel tank: 400L, Iron material
Cargo body: inner size 7100×2326×2300, with side doors, with rear-open door, thickness of floor 3mm, thickness of side walls 1.5mm
Overall size: 9800×2550×3600
Loading Capacity: 25 TONNE
Without wind deflector
Without air conditioner
Without ABS
Color: Optional