Durable 40 m³ bulk cement trailer for Sale
Lead Time:

20-35 DAYS

Product Orgin:

CHINA

Brand:

SUNSKY brand

Shipping Port:

ANY PORT, CHINA

Payment:

T/T; L/C

Price:

$19000/unit

Market Price:

$25000

Price Range:

10-50/18000$

Color:

OPTION
Contact Now
Description
Product Item: 40CBM 3 Axle Bulk Cement Tanker Semi-trailer
Advantages of 40CBM bulk cement trailer
‑‑‑‑‑‑‑‑‑‑‑‑‑‑‑‑‑‑‑‑‑‑‑‑‑‑‑‑‑‑‑‑‑‑‑‑‑‑‑‑‑‑‑‑‑‑‑‑‑‑‑‑‑‑‑‑‑‑
1. The tanker body of SUNSKY Bulk cement trailer is made of high-strength and wear-resistant steel Q345B to ensure the longer life span and better quality.
2. SUNSKY bulk cement trailer use advanced welding technology and equipment to make sure the high safety and no air leak: Special welding machine to weld the tank body from one side but form smooth, sturdy and uniform welds on both sides.
3. The pipeline system is fitted with reasonable auxiliary blower and anti-wear device to realize smoother unloading process and faster unloading speed.
4. Equipping the famous brand spare parts, such as Bpw axles, Jost landing gear, Weichai engine, WBF air compressor that ensure its durability, save your costs on operation and follow-up maintenance.
Features:
‑‑‑‑‑‑‑‑‑‑‑‑‑‑‑‑‑‑‑‑‑‑‑‑‑‑‑‑‑‑‑‑‑‑‑‑‑‑‑‑‑‑‑‑‑‑‑‑‑‑‑‑‑‑‑‑‑‑
1) Manufacturer, 32 years professional experience.
2) Two years guarantee term provided freely.
3) Export more than 1000 units to Africa, Southeastern Asia, and South America.
4) Products can be custom-made according to your design.
Specification:
‑‑‑‑‑‑‑‑‑‑‑‑‑‑‑‑‑‑‑‑‑‑‑‑‑‑‑‑‑‑‑‑‑‑‑‑‑‑‑‑‑‑‑‑‑‑‑‑‑‑‑‑‑‑‑‑‑‑
| | |
| --- | --- |
| Style | 40CBM 3-Axle Bulk-Cement Semi-trailer |
| Dimension(L*W*H)mm: | 11500*2500*3700 |
| Max. Payload(kgs): | 50000 |
| Volume(CBM) | 40CBM |
| Tare weight(kgs): | 9700 |
| Kingpin | JOST 3.5" bolt-in |
| Landing gear | JOST 19" |
| Tire size | 12R22.5 (13sets) |
| Rim size | 9.00*22.5 (13sets) |
| Axle | BPW brand -13ton |
| Susupension | Fuwa Steel suspension with 9pcs of leafs spring |
| Brake system | Dual line with WABCO brand Re-6 emergency relay valve, MBA brand T30/30 air chamber, 46L air tank |
| Electric system: | One unit of 24V 7-pin ISO standard socket; with brake light, turn light, reverse light, side light, reflector, fog light; one set of 6-pin standard cable |
| Diesel Engine: | Shandong WeiChai 4100(40KW)(2000r/min) |
| Air compression: | SuZhou WBF-10/2 (10M3/min) (0.2MPA) |
| Prime & Topcoat painting | Zinc-rich & Polyurethane painting |
| Loading idea | Ship completely unit by roro or bulk ship |
Details photo: bulk cement trailer for sale
‑‑‑‑‑‑‑‑‑‑‑‑‑‑‑‑‑‑‑‑‑‑‑‑‑‑‑‑‑‑‑‑‑‑‑‑‑‑‑‑‑‑‑‑‑‑‑‑‑‑‑‑‑‑‑‑‑‑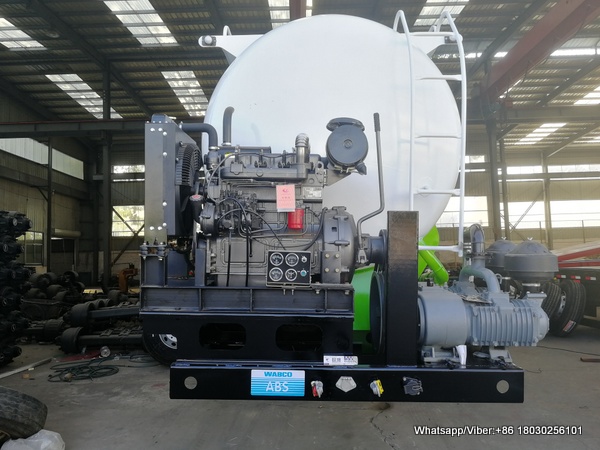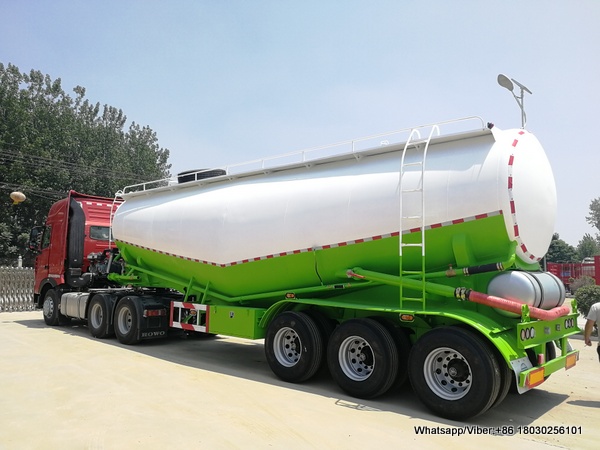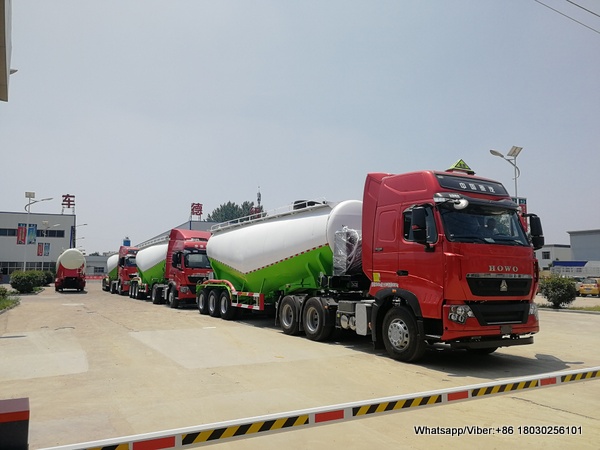 Our advantage and ability:
‑‑‑‑‑‑‑‑‑‑‑‑‑‑‑‑‑‑‑‑‑‑‑‑‑‑‑‑‑‑‑‑‑‑‑‑‑‑‑‑‑‑‑‑‑‑‑‑‑‑‑‑‑‑‑‑‑‑