Multi Axle Hydraulic Modular Transporter Trailer
Lead Time:

30 days

Product Orgin:

China

Shipping Port:

Any Port Of China

Payment:

T/T; L/C

Price:

$38000/65000

Market Price:

$40000

Color:

optional
Contact Now
Description
Feature
1. Hydraulic modular trailer is widely used in bridge and tunnel construction, electric power construction, petrochemical construction and other large objects long distance transportation of special equipment.
2. Adopt the international most advanced design concept, light weight, large load, wide range of adaptation, reliable and durable.
3. The modular structure can be combined horizontally and vertically.
4. Single 2 ~ 10 axle, load tonnage from 50 tons to 3500 tons after combination.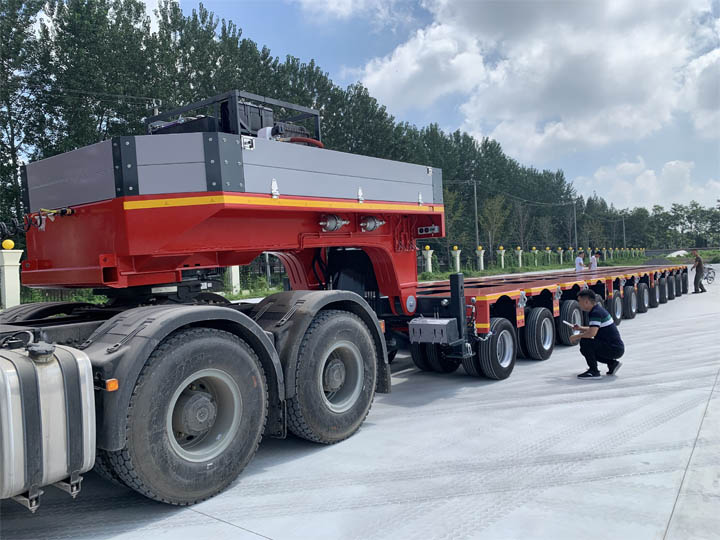 Main Specification
| | |
| --- | --- |
| NAME | PARAMETER |
| WHEEL BASE | 1550 mm |
| WHEEL TRACK | 745/1820 mm |
| TIRE QUANTITY | 8PCS/PER LINE |
| TIRE SIZE | 215/75R17.5 |
| RIM SIZE | 6.00-17.5 |
| WIDTH | 2990 mm |
| HEIGHT | 1070 mm |
| SUSPENSION LIFTING | ±300 mm |
| STEERING SYSTEM | AUTO AND MANUAL OPERATE |
| MATERIAL OF CHASSIS | Q550D |
| MAX STEERING DEGREE | 55° |
| TARE WEIGHT PER LINE | 3.7 TON |
| PAYLOAD PER LINE | 22.5 TON(18km/h) |
Advantages
1. Splicing surface gantry milling overall processing, more accurate, splicing surface seamless connection. Other manufacturers only guarantee the accuracy of the middle splicing, and there are gaps on both sides, which will produce shaking in actual transportation.
2. The side adopts the appearance of Goldhofer and is equipped with a hanger for easy strapping and lifting.
3. Automatic CNC bending is used for the internal pipeline of the frame to reduce the error caused by human. All joints use high precision torque wrench to ensure joint safety.
4. Optimized operation box, all the instruments are placed on the top for easy observation, all the internal use of seamless steel pipe, more durable.
5. All cylinders use world famous brand cylinders with guaranteed quality.
6. Two-color spraying.
7. The tail uses the overall anti-collision beam design, integrated taillight, hose can be hidden and protected (optional).
8. All the pins and bolts of the vehicle shall be galvanized.
9. Gooseneck is equipped with high pressure accumulator, which can protect steering pipeline when heavy load. Accumulator can be filled with nitrogen, the only domestic nitrogen equipment manufacturer.
10. Optimized steering system to make it more accurate and solve the problem of mounting dead point.
11. Power station contains pumping pump, high pressure oblique shaft pump, performance is better than straight shaft pump.
12. Power gooseneck equipped with external operating box, more convenient to use.
13. The hydraulic hard pipes are made of global seamless steel pipes, and the hydraulic hose is made of Eaton four-layer steel wire hose, the same as Goldhofer. In this specification, the hose is currently the best in the world.
14. Tires use double 215/75R17.5135/133J tires with stronger load capacity.