SINOTRUK HOWO 4X2 CARGO TRUCK WITH MOUNTED CRANE
Lead Time:

30 days

Product Orgin:

China

Brand:

HOWO brand

Shipping Port:

Any Port Of China

Payment:

T/T; L/C

Market Price:

$40000

Color:

optional
Contact Now
Description
PRODUCT DETAIL
Crane refers to a certain range of vertical lifting and horizontal lifting of the multi-action lifting machinery.
Tyre crane's main features are:the driving cab and the lifting control room are integrated into one,is evolved from the crawler crane, the crawler and walking support part of the walking mechanism into a chassis with tires,Overcome the crawler crane crawler board caused damage to the shortcomings of the road, belongs to the material handling machinery.
Some work characteristics of hoisting crane equipment is to do intermittent movement, that is, in a working cycle of feeding, migration, unloading and other actions of the corresponding mechanism is alternate work, the development of the crane in the market are more and more widely used.
Because do not have to lift the weight and lift the weight driving often appear some accidents, the speed is faster than the crawler crane. The operation is stable, the lifting weight is large, the lifting weight can be carried out in a specific range, but the road must be smooth and solid, the tire pressure must meet the requirements, and the lifting from the ground must not exceed 50CM.Do not walk long distances with loads. In order to ensure the safety of operation, hoisting crane operation without legs is basically prohibited in China at present. Crane supporting the use of wire rope varieties including phosphating coating wire rope, galvanized wire rope and smooth wire rope.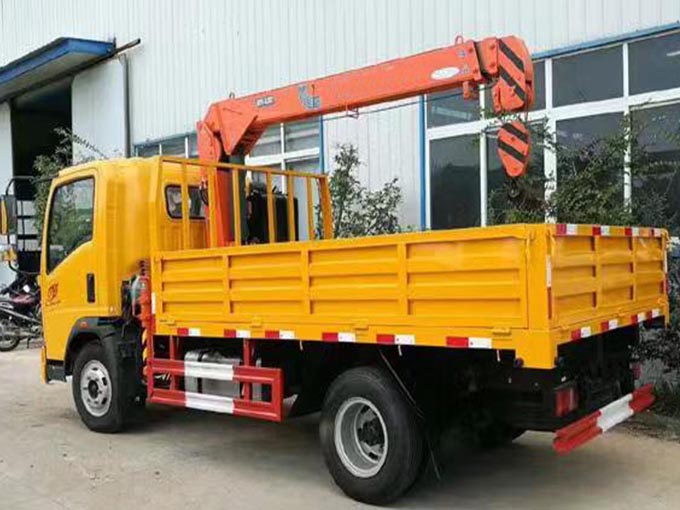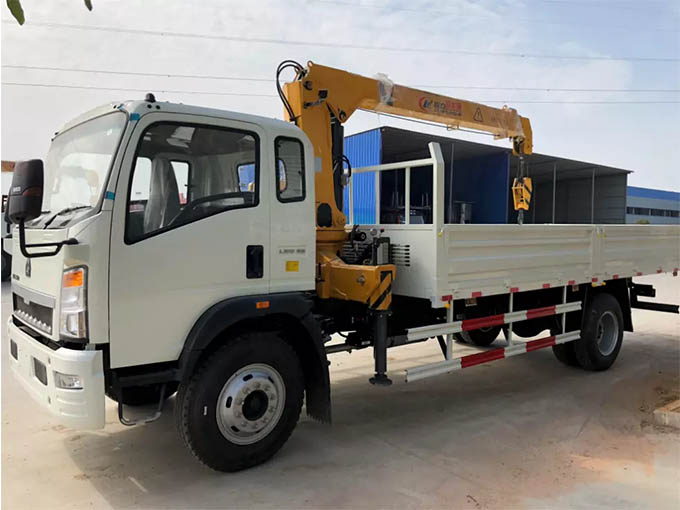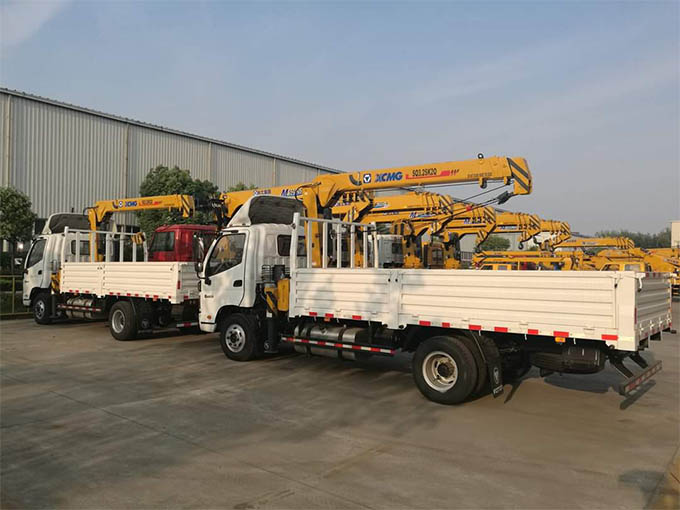 SPECIFICATION
SINOTRUK HOWO 4X2 CARGO TRUCK WITH MOUNTED CRANE
RIGHT HAND DRIVE
Model: ZZ1047D3414D1R45
Made Year: 2020, Brand new, produce according to order
Cabin: 1880, standard cabin, without sleeper
Engine: Xichai, 85HP, EURO3 Emission
Gearbox: 5 forward gears and 1 reverse(WLY525)
Front axle: 2000kg
Rear axle: 3500kg
Tires: 7.00R16, 7 pieces (including one spare tyre)
Fuel tank: 120L, Iron material
Steering: hydraulic operation with power assistance
Cargo Body: Appro 4000*2200*600(mm), Balong crane, maximum lifting weight 3.2 tons, lifting height 10.6meter, working radius 8meter
Overall Measurements: Appro 5995×2400×3470(mm)
Color: option: Red, White, Blue
FEATURES
1) Manufacturer, 32 years professional experience.
2) Two years guarantee term provided freely.
3) Export more than 1000 units to Africa, Southeastern Asia, and South America.
4) Products can be custom-made according to your design.