Sunsky brand 3-axle LPG tanker semi-trailer
Item NO.:

LPG tanker semi-trai

Lead Time:

20-30DAYS

Product Orgin:

CHINA

Brand:

SUNSKY brand

Shipping Port:

ANY PORT, CHINA

Payment:

T/T; L/C

Price:

$33800/unit

Market Price:

$38000

Price Range:

10-50/33300$

Color:

OPTION
Contact Now
Description
Product Item: Sunsky brand 3-axle LPG tanker semi-trailer
Advantages of SUNSKY LPG Tanker Trailer
‑‑‑‑‑‑‑‑‑‑‑‑‑‑‑‑‑‑‑‑‑‑‑‑‑‑‑‑‑‑‑‑‑‑‑‑‑‑‑‑‑‑‑‑‑‑‑‑‑‑‑‑‑‑‑‑‑‑

1. SUNSKY LPG TANKER SEMI-TRAILER to carry liquid petroleum gas,The whole frame is designed by CAD system, optimized in structure,to satisfy different cargo,loading&unloading capacity and using environment s requirements.

2. Use advanced welding equipment and European design and technology to ensure the tanker quality and best property,can be adapted to different terrible road environment.
3. The axle,tyre and other accessories are the well-known products which supplied by the domestic and foreign professional manufacturers.
4. The continuous improvement of structure makes it much accord with practical loading and unloading requirements.

Features
­­­‑‑‑‑‑‑‑‑‑‑‑‑‑‑‑‑‑‑‑‑‑‑‑‑‑‑‑‑‑‑‑‑‑‑‑‑‑‑‑‑‑‑‑‑‑‑‑‑‑‑‑‑‑‑‑‑‑‑
1) Manufacturer, 32 years professional experience.
2) Two years guarantee term provided freely.
3) Export more than 1000 units to Africa, Southeastern Asia, and South America.
4) Products can be custom-made according to your design.

Specification
‑‑‑‑‑‑‑‑‑‑‑‑‑‑‑‑‑‑‑‑‑‑‑‑‑‑‑‑‑‑‑‑‑‑‑‑‑‑‑‑‑‑‑‑‑‑‑‑‑‑‑‑‑‑‑‑‑‑
Tri-Axle LPG Tank Semi-Trailer

Feature:

Carry Liquid Petro Gas

Dimension(L*W*H):

13150*2500*4100mm

Model

SS9470GYQ

Material:

Q370R

Compartment:

One

Capacity(kgs):

26,915KGS (58.1CBM, 0.42T/CBM)

Tare weight(kgs):

15,000kgs

Kingpin

The world-famous JOST brand bolt-in/welded type 3.5"/2"

Landing gear

JOST brand two-speed manual operation 19"

Tire size

11.00R20、11R22.5、12R22.5、315/80R22.5、385/65R22.5

Rim size

8.25*22.5、9.00*22.5、11.75*22.5

Axle

Original BPW-12T/ FUWA-13T

Leafs spring

Germany type with 12pcs of leafs spring/ Fuwa brand with 10 pcs of leafs spring/ Airbag suspension

Brake system

One unit WABCO RE 4 relay valve; four units T30/30 spring brake chamber; two units T30 spring brake chamber; two units reliable local brand 45L air tank; two units reliable local brand standard coppery air-connector.

Emergency Valve

(Liquid Phase)

Rego Brand, A3213R300, 2 Pcs

Emergency Valve

(Gas Phase)

Rego Brand, A3212R175, 1 Pc

PRV

Rego Brand, A 8436G , 2 Pcs

Vent Valve

Rego Brand, TSS3169 , 4 Pcs

Liquid Adaptor

Rego Brand, 5769K (3", 3-1/4ACME),2 Pcs

Gas Adaptor

Rego Brand, 5767H (2", 2-1/4ACME), 1 Pc

Angle Valve

Rego Brand, J415/ A2805C , 1 Pc

Pressure Gauge

Rego Brand, J542 /A 8400 , 1 Pc

Thermometer

Rego Brand, J700, 1 Pc

Liquid Level Gauge

Rego Brand, 6339M11/6342M11 , 1 Pc

Prime & Topcoat painting

S.A.2.5standard sandblasting ;Zinc-rich & Polyurethane painting

We can build the trailers according to customer's design and requirement
Production detail
‑‑‑‑‑‑‑‑‑‑‑‑‑‑‑‑‑‑‑‑‑‑‑‑‑‑‑‑‑‑‑‑‑‑‑‑‑‑‑‑‑‑‑‑‑‑‑‑‑‑‑‑‑‑‑‑‑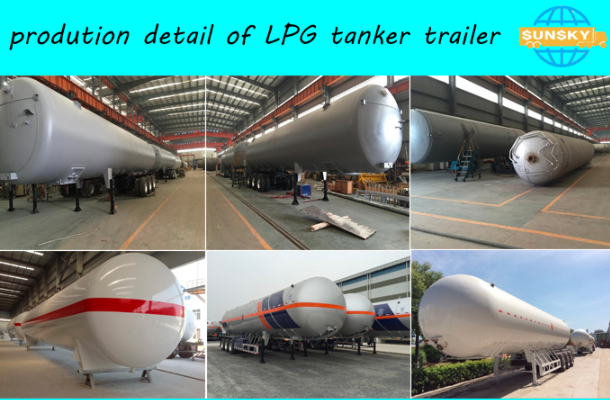 FAQ:
‑‑‑‑‑‑‑‑‑‑‑‑‑‑‑‑‑‑‑‑‑‑‑‑‑‑‑‑‑‑‑‑‑‑‑‑‑‑‑‑‑‑‑‑‑‑‑‑‑‑‑‑‑‑‑‑‑‑
1. Who are we?
Answer: We are a group company; we have three semi-trailer factories in china, one trading company in china and one company inHong Kong. We are focus on semi-trailer, trucks and parts.


2. Why choose us

Answer: 1) We have more than 30years experience in the trailer manufacturing. Our brand"SUNSKY" and"JUPITER" had got high reputation in china and overseas countries.
2) We have more than 20 engineers to design the kinds of trailers according to the requirement from you.
3) We had exported thousands of trailers to Africa, Middle East, Asia,Australia,South America and so on since 2006.
4) We are one of the biggest dealers of SINOTRUK HOWO truck in china, we can supply kinds of HOWO brand truck with competitive price.