3 Axle 6 Compartments Fuel Tanker Semi Trailer
Lead Time:

20 to 30 days

Product Orgin:

China

Brand:

SUNSKY brand

Shipping Port:

Any Port Of China

Payment:

T/T; L/C

Price:

$16300/40000

Market Price:

$20000

Price Range:

16000-40000/0$

Color:

optional
Contact Now
Description
Features of 3 axle 6 compartments fuel tanker trailer
1. 3 axles fuel tanker trailer is designed in accordance with ADR standard.
2. Suitable for Middle East (Saudi Arabia, Oman, Kuwait, etc.) and West Africa (Gabon, Ghana, Mali, Burkina Faso, etc.) markets.
3. Can be make into 30,000 - 45,000 Liters Fuel tank trailer with 6 compartment .
4. Tanker is a sealed loading container,advanced equipment is be used to ensure the welding quality.
5. The semi trailers transport by bulk ship or Flat Rack. We keep long- term cooperation with ship agency that can give you a lowest shipping cost.
6. Our raw material and OEM parts are purchased centralized by Professional team,every node will be inspected strictly.Also some easily broken parts will be delivered with the trailers.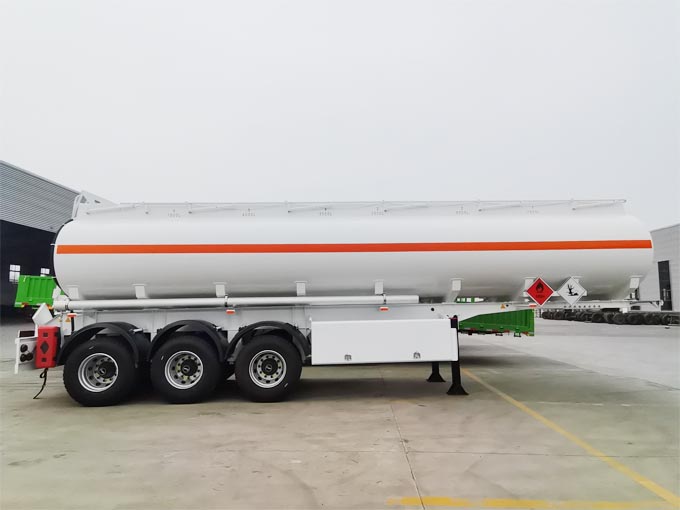 Specification
Tare Weight: 8,500 Kg
Dimension(L * W * H):10,500 x 2,490 x 3,696 mm
TANKER BODY
Shape: Square
Medium: Petrochemical liquid
Chamber Nos: 6 chambers
Valid Volume: 30000L
Body Steel Material: Q345B / 5mm
End Plates: Q345B / 6mm, by punching
Resistant Wave Plates: Q345B / 5mm
Partition Chamber Plates: Q345B / 6mm
FITTINGS AND PIPING
Manhole: 4 sets YOJE aluminium alloy ø500mm(20") manhole with aluminium alloy cover; with 4units breather valve; with 4units U-dipstick;
without any Chinese
Discharge Valve: 4 sets YOJE DN80 aluminum alloy discharge valve with cover
Foot Valve: 4 sets pneumatic control YOJE DN80 aluminum alloy foot valves
Pneumatic Control system: 1set Pneumatic Control combined switch
1unit emergency switch
Oil-water Separator: 1unit
Pipeline At Bottom of Tank: 3" steel tube/Q235 for each chamber
ACCESSORIES
Ladder: 1 unit at the rear of tank, flat steps, folding and detachable type
Walkway Platform: On the top of tanker; bolted, detachable type; with anti-slip painting and quartz sand
Guard on Top of Tank: 2 sets aide guard, one of them is linked type
Discharge Hose Box: 2 units, each side 1 unit, steel, cylinder tube with covers on both ends; with guide wheel
Discharge Hose: 2 units 3"×6M factory PVC hose with quick coupling on both ends
Fire Extinguisher Carrier: 2 units at the left of rear of tanker, include 2 units 10kg dry powder type fire extinguisher inside
Oil Indicator: 4 units
Tire Stopper: 2 units with its holder
CHASSIS
Main Beams: Heavy duty and extra durability designed; Opting for high tensile steel, welded by automatic Submerged-Arc processes.
Welded "I" beam;
Axle: 3 units of heavy duty original BPW-16T axle
Landing Gear: Two speed manual operation JOST 19" linked landing gear
King Pin: One unit 3.5" bolt-in kingpin(14mm kingpin plate)
Suspension: German design 3 axle suspension
Wheel Rim & Tires: 13 units 9.00*22.5 rims & 13 units 315/80R22.5 tires,
including 1 unit spare tire&rim
Electrical Wire: Semi heat insulation cable; One unit JAEGER POWAY 24V 7-pin ISO 1185 socket; One set 7-pin wire;
LED lights system(10units side lights; 2units stop lights; 1unit reverse lights; 2units turn lights; 1unit fog light; 1unit license plate light; 2units multifunctional lights; 1unit rear&high stop light)
Built-in rear lamp with protector.
Pneumatic Braking System: One unit WABCO RE 4 relay valve; four units T30/30 spring brake chamber; two units T30 spring brake chamber; two units reliable local brand 45L air tank; two units reliable local brand standard coppery air-connector.
Spare tire carrier: 1 unit, box-type for 2 tires
Bumper: 1set, at the end of tanker
Mudguard : Plastic type
Nameplate: As client's option
Warning Plate: Reflective sticker yellow, wide 5CM, on both side of the tanker;
Square reflective sticker 5CM, red color, at rear of tanker;
2units triangle reflective; 70km/h speed sign;
NO.3 flammable liquid danger warning sign
Fuel Box: 2units, 500L/unit, with lock
Tool Box: 1 unit tool box in the middle of tanker; bolted type, double nuts; with tire casing, handle and reinforcing bar in it
Accessories: With 1unit Pickaxe; 1unit Plastic Hammer; 2unit small Mop;
1unit First-aid kit; 3units conical roadblock; 1unit small shovel;
2units triangle warning board; 1unit 10L Aluminum barrel
Shell finish - exterior: Sand blasting before painting; two coats of primer, anti-corrosion; two coat of finish painting;