3 Axle Flatbed Semi Trailer
Lead Time:

30 days

Product Orgin:

China

Brand:

SUNSKY brand

Shipping Port:

Any Port Of China

Payment:

T/T; L/C

Price:

$11000

Market Price:

$20000

Color:

optional
Contact Now
Description
3 Axle Flatbed Semi Trailers are commonly used to transport a variety of bulk cargo and containers, 40 ft Container Flatbed Semi Trailers can transport 1 x 40 ft or 2 x 20 ft containers.
Each tri-axle trailer for sale has its own load rating, dimensions, and other configurations required for use. These specifications are useful in helping you purchase the right tri-axle trailer for your operation. Tri-axle trailers are the most popular models.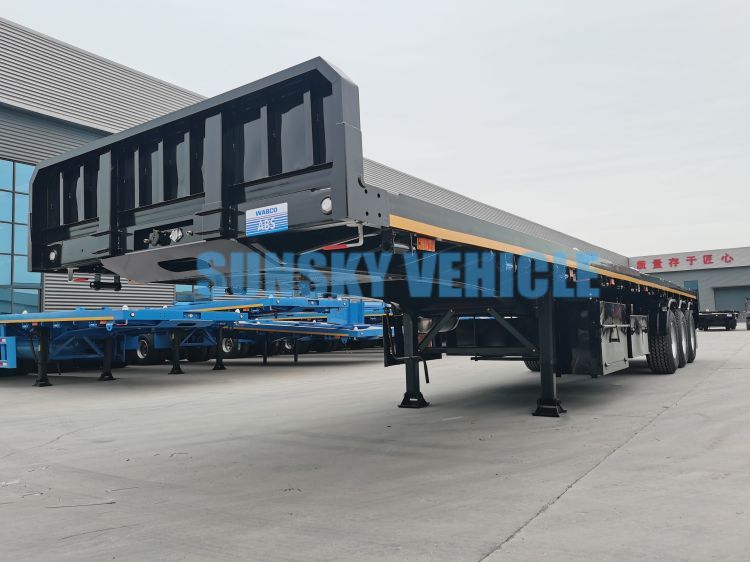 40 FT Container Trailer Specifications
| | |
| --- | --- |
| Feature: | Carry 1X20FT、1X40FT、or 2X20FT container |
| Dimension(L*W*H): | 12420*2480*1570mm |
| Main frame: | Heavy duty and extra durability design; Opting for high tensible low carbon alloy Q345B steel; I beam welded by automotive arc-submerge process |
| Model: | SS9380TJZP |
| No. of axle: | 3 |
| Payload(kgs): | 50000 |
| Tare weight(kgs): | 7200 |
| Kingpin: | Bolt-in type 3.5" or 2" |
| Landing gear: | Two-speed manual operation 19" |
| Tire size: | Triangle Brand 12R22.5 (14sets, two spare tyres) |
| Rim size: | 9.00*22.5(14 sets, two spare rims) |
| Axle: | 3 Axle, 13 Tons |
| Suspension | Airbag suspension with first axle lifting |
| Brake system: | Dual line with Re-6 emergency relay valve, T30/30 air chamber, 46L air tank |
| Electric system: | One unit of 24V 7-pin ISO standard socket; with brake light, turn light, reverse light, side light, reflector, fog light; one set of 6-pin standard cable |
| Container locks | 12(for 1x20GP,2X20GP,1X40HQ) |
| Painting: | Two coat of anti-corrosion prime; one coat of finish painting |
| Accessory: | One tool box; one set of standard tool |
| Additional: | 1500L fuel tank and 50L water tank, with ABS, with metal mudguards, with hubometer, with two spare tyre racks, with 500mm front wall. |
3-axle heavy flatbed trailer features
Our flatbed trailers have numerous features that make them the best on the market. Here are some of the features:
1. Heavy Duty Construction: 13 meter 3-axle heavy duty flatbed trailer is made of strong and durable Q345B material. The trailer can withstand harsh weather conditions and rugged terrain, making it ideal for long distance transportation.
2. Spacious loading area: the flatbed trailer has a huge loading area equipped with front baffles to accommodate bulky and heavy loads
3. Three-axle design: The flatbed trailer has a three-axle design, which enhances stability and makes it easier to tow. The axles are carefully calibrated to ensure that the trailer is well balanced and moves more easily.
4.SAFETY FEATURES:The 13 meter 3 axle heavy duty flatbed trailer has powerful safety features such as anti-lock braking system, reflectors and lighting system. These features are designed to increase the driver's field of vision, reduce accidents and ensure cargo safety.
sunskytrailer can also provide tri-axle skeleton trailers, grill trailers, semi dump trailers, container chassis trailers with capacity from 40 tons to 80 tons. We will provide you with the most detailed pictures and videos, welcome your inquiry and visit.