Introduce Of Bulk Cement Trailer (2)
Mar,17 2022
If you want to know more of bulk cement trailer I,II, Please click Introduce Of Bulk Cement Trailer (1)
III.Power System
Power system include: PTO, Engine, Air compressor etc.
PTO: Install on gearbox
Diesel Engine: Chinese brand Weichai Huafeng4100kw
Air compressor: Chinese brand WBF-10/2.The rated working pressure is 0.2Mpa and the rotational speed is 800~1100r/min.
V. Piping System
1. Entering pipeline: After the gas is output from the air compressor, it enters each compartment through the check valve and ball valve. A safety valve is installed before and after the check valve to prevent the air pressure from being damaged by the pipeline when the accident occurs. The safety valve is set to a venting pressure of 0.2Mpa. The secondary assisting blowing pipeline is connected to the discharging pipeline and plays an auxiliary blowing action when discharging the material. It is composed of a ball valve, a rubber hose and a boosting valve. The blow-behind valve prevents powder from entering the pipeline. The external air supply is provided for the user not using the air compressor of the vehicle, but using the outside compressed air. A pressure relief valve is installed at the top of the tank to discharge the residual pressure in the tank and deflate the air before the user opens the material cover and stops the discharge.
2. Discharge pipeline
The discharge pipeline include inlet, butterfly valve, discharge steel pipe, discharge pipe connection, discharge hose etc.
a. Discharge hose: Wear-resistant steel wire unloading hose with a diameter of 100mm.
b. Butterfly valve: Sealed by a rubber seal ring, the apron can be replaced after it is worn, and the entire butterfly valve does not have to be replaced, which can reduce the cost of use.
c. An anti-seismic pressure gauge is installed on the cement tanker to monitor the change of air pressure in the tank to guide the discharge.
d. Accessory: including side protection, rear protection, fender, ladder etc.
IV. Working Principle
The power of tractor truck engine is transmitted to the air compressor via an additional transmission device (Include Gearbox, PTO etc.).The Compressed air produced by the air compressor entering the cement tanker. The cement powder is fluidized by the fluidizing device. By the pressure difference between the inside and the outside of the cement tanker, the powder material with air is transported along the discharge line to the specified location outside of the tank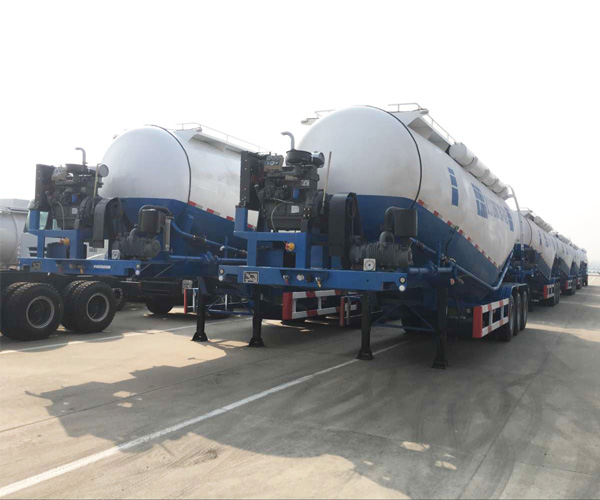 If you have any interest in the bulk cement trailer or cement truck, welcome to contact with us to learn more information.
---
Dylan.Chen
XIAMEN SUNSKY TRAILER CO.,LTD
Site:www.sunskytrailer.com
Email:Chendylan28@gmail.com
Cell/Whatsapp/Wechat:+86 18030256101