Introduction and Buying Guide of SINOTRUK Brand HOWO E7G Tractor Truck
Jun,08 2022
Introduction and Buying Guide of SINOTRUK Brand HOWO E7G Tractor Truck
HOWO E7G Lightweight Tractor Truck is a new model commercial vehicle that SINOTRUK Group brings together Mercedes-Benz technology, German MAN technology, STEYR technology and Sinotruk's own technological advantages to create a new generation lightweight road transport vehicle.
This series of tractor trucks adopts Mercedes-Benz technology cabin, German MAN technology chassis, and adaptively optimizes the body, power transmission, frame and suspension system according to the domestic and foreign transportation environment and user characteristics, making the vehicle's own lighter weight, lower fuel consumption, higher reliability, and better safety, which can better improve the user's transportation benefits.
Chapter I: Market positioning of HOWO E7G tractor truck
Chapter II: Product highlights of New Model HOWO E7G tractor truck
2.1 Lighter Weight and Higher Benefit
2.2 Lower Fuel consumption, save more cost
2.3 Faster speed and higher efficiency
2.4 High Quality and Safer Driving
2.5 More Excellent and reliable truck assembly
2.6 Easy to repair and low maintain cost
Chapter III: How to Import the HOWO tractor truck from China?
3.1 Truck procurement process from China
3.2 Price and Delivery time of HOWO truck
3.3 How to supply the warranty and sales service if buy HOWO truck from China?
Chapter I: Market positioning of HOWO E7G tractor truck
Aiming at the current situation of high fuel costs and continued decline in transportation profits. According to the company's product planning, HOWO E7G Lightweight Tractor truck is positioned as an economical and practical heavy-duty truck. Under the premise of ensuring the safety and comfort of the vehicle, we take more consideration on the economics and reliability of the vehicle's use. Comprehensive optimization design improvements have been made in terms of vehicle weight control and reliability. Compared with the other brand trucks in the current market, HOWO E7G tractors have strong market competitiveness in terms of weight, fuel consumption and price.
Targeted market:
Used in middle or long distance highway transport
The total weight of truck and cargo is less than 55Tons
Coal transportation and daily industrial product transportation are the mainstays. Coal transportation accounts for 36%, daily necessities transportation and Container Transportation accounts for 42%, and other uses transportation accounts for 22%.
User concerns: self-weight, fuel consumption, price.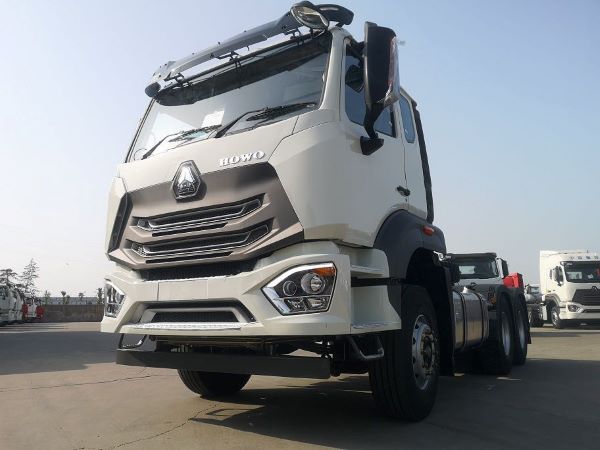 (New Model HOWO 6X4 E7G380 Lightweight Tractor Truck)
Specification of HOWO E7G Tractor Truck
SINOTRUK E7G380 TRACTOR HEAD TRUCK

Model

ZZ4255N3246

Driving type

6X4,RHD

Cabin

H77 cabin, with single sleeper, double seats, with air conditioner, standard front bumper, with all around curtains, with air seat, without wind deflectors.

Engine

WD615.47,371HP, EUROII

Transmission

HW19710 (10 forwards and 2 reverses, manual)

Front axle

Front axle: H153, 5500kg

Rear axle

Rear axle HT457 (2x13000Kg) (i=3.909) (Drum brake) single stage reduction

Suspension

leaf spring (Front 3 pieces, Rear 5 pieces)

Chassis

N series reinforcement type

Tires

12R22.5, with one spare tire, 11 pieces

Fifth Wheel

JOST 2''

Fuel tank

600L, aluminum material, with locking cap

Steering

BOSCH8098

Dimension

7000*2550*3000mm

ABS

Optional
Chapter II: Product highlights of New Model HOWO E7G tractor truck
2.1 Lighter Weight and Higher Benefit
HOWO E7G lightweight tractor truck adopts platform and modular design, while designing to reduce own weight, the tractor truck also adopts new materials such as: aluminum alloy transmission (optional), single-layer frame, aluminum alloy fuel tank, lightweight fifth wheel, few pcs of leaf spring and vacuum tires etc. to reduces the overall weight of the vehicle, the trucks carry more cargo under standard loading conditions.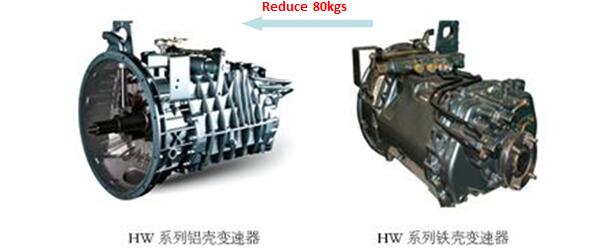 (Change from HW series steel shell transmission to aluminum shell transmission,reduce weight about 80 kgs)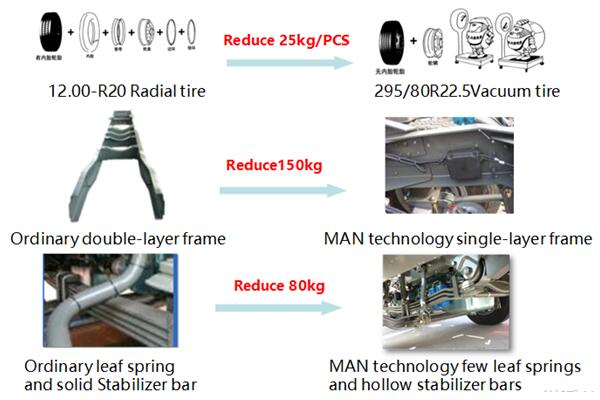 2.2 Lower Fuel consumption, save more cost
HOWO E7G380 lightweight Tractor Head is optimized by MAN technology for power matching, Combining the characteristics of domestic and foreign road logistics transportation with on-board logistics and high-speed transportation. The SINOTRUK group develops the new generation of systematic HOWO E7G highway fuel-saving tractors. The tractor trucks can reduce fuel consumption by 10-13%, which is equivalent to saving more than USD 6,000 for transporters each year.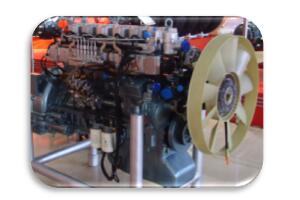 1. Standard SINOTRUK HOWO 10 or 12 liter high-power engines, low speed and large torque, economic speed range 1100-1600 rpm
(Other brands of engines generally 1200-1500rpm), more fuel efficient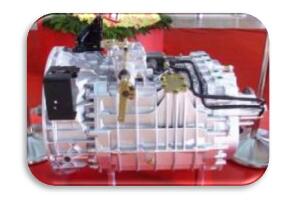 2. The HOWO tractor truck is optional to install 12-speed and low-speed ratio gearbox, economic and wide speed range, high engine load rate, and more fuel-efficient truck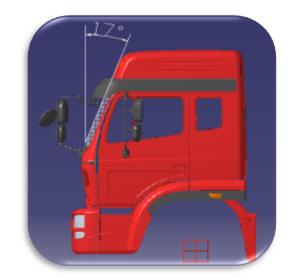 3.The E7G HOWO tractor truck use German Mercedes-Benz technical cab, which has a smaller wind resistance coefficient (up to 0.49).
It is useful to reduce vehicle high-speed driving resistance and reduces fuel consumption by more than 5%.
The tractor trucks installed vacuum tires. Rolling resistance is smaller, which saving fuel up to 2-3 liters per 100 kilometers

4. The HOWO tractor trucks use large-capacity air filter, which have large air intake, low air intake resistance, sufficient combustion, good power and higher fuel efficient.
2.3 Faster speed and higher efficiency
1. The HOWO tractor truck is fully matched with a multi-speed over speed gearbox (also known as a fast gearbox) and a low speed ratio rear axle (also called a fast axle).
2. When the engine on 1500 rpm, the economic speed of HOWO truck can reach about 90 km/h, which meets the needs of most road transport.
3. When the vehicle is fully matched with the fast gearbox and the fast axle, both the maximum speed and the economic speed of the vehicle are increased by more than 20% compared with the matching direct gear box.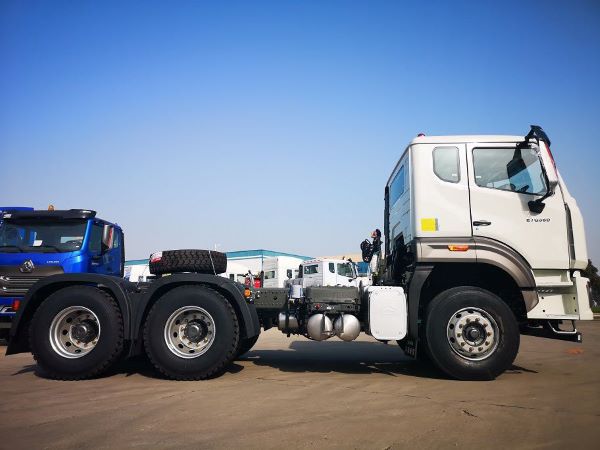 (Side View of E7G380 Tractor Truck)
2.4 High Quality and Safer Driving
1. Driving Cabin
The HOWO trucks use German Mercedes-Benz technical cab, all-steel body. Thickness of Cab steel is 20% thicker than other brand trucks.(The HOWO E7G Tuck is 1mm,other brand is 0.8mm
The HOWO E7G tractor trucks have advanced structure, light weight, high reliability and good safety. The cab welding and production line of HOWO trucks is finished by 8 robots automatically from ABB company.
The HOWO trucks use high-quality sixth-generation cathodic electrophoretic paint, and the middle and top coats are automatically painted by 6 robots which effectively ensures the appearance quality of the body. The anti-rust and aging resistance of the truck body Increased by more than 2 times compared with the traditional electrophoretic coating. The residual value of truck is higher.
The HOWO tractor truck use ergonomic design, four-point suspension, around type instruments and silent design. Having good comfort, low driving fatigue and improve transportation efficiency better.
Each safety performance indicators of HOWO tractor trucks fully comply with European ECE R29 regulations, and the safety performance has been comprehensively improved.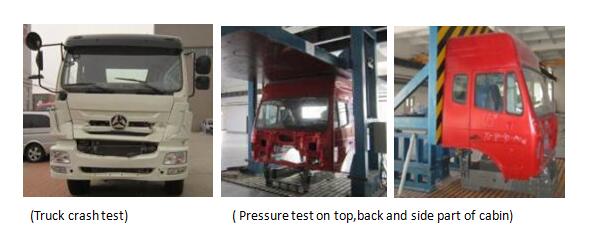 2. Brake safety
Equipped with German VOSS braking system and original WABCO ABS system, widening brake shoes, safe and effective braking;
The selection of MAN technology EVB exhaust brake and hydraulic retarder can improve the braking safety of downhill slopes. The braking system meets the requirements of relevant European regulations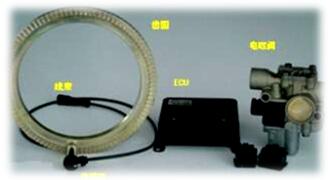 3. Cooling system
The cooling system optimized by MAN technology. The HOWO tractor truck uses a widened water tank and a C-type windshield. The cooling capacity of the engine is further improved. The vehicle fully meets the operational needs of plateaus, high altitudes, high heat and complex mountain roads.

2.5 More Excellent and reliable truck assembly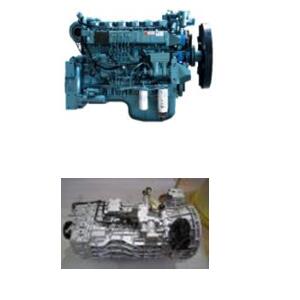 Engine: China Sinotruk HOWO 10 or 12 liters high-power engine, low speed and high torque, strong starting, climbing and acceleration capabilities; By Technology improvement reduces fuel consumption more than 8% compared with similar engines; standard EVB, high-speed driving control and safer and better Braking efficiency.
Transmission: The HOWO E7G Tractor truck adopts multi-gear high-torque transmission with large reserve torque, high reliability and low failure rate.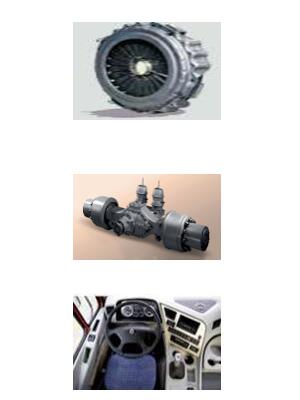 Clutch: HOWO tractor trucks use pull-type Φ430 diaphragm clutch, have lighter weight, larger clamping force, strong heat dissipation ability and longer lifespan.
Drive axle: HOWO trucks adopt 457 single-stage reduction Axle, long term market-tested shows they are mature and reliable technology
Electrical instrument: the tractor truck use stepper motor instrument, the technology is reliable, durable, low failure rate, more convenient on inspection and maintenance.
2.6 Easy to repair and low maintain cost
1. The warranty period of the HOWO E7G tractor trucks is extended to 18 months or 150,000 km, which is 6 months or 30,000 kilometers longer than the industry average. Each unit tractor truck can save USD 2,000-4,000 per year
2. Adopt HOWO Universal large assembly, sufficient spare parts in stock, low use cost
3. The structure of HOWO tractor truck is scientific and reasonable, and the maintenance is more convenient:
①The HOWO truck cab flip angle can reach 55 °. After the cab is flipped, the engine, water tank, intercooler and other components can be directly suspended for easy after-sales maintenance.
②Opening the front panel of truck, you can check the oil level, add oil, brake fluid, windshield washer fluid, and clean the air conditioning filter element, etc. Convenient and practical

(Easy maintain and larger cab flip angle on HOWO E7G TRACTOR TRUCK)
Chapter III: How to Import the HOWO tractor truck from China?
3.1 Truck procurement process from China
1. Contact with your China HOWO truck suppliers.
2. Tell to your suppliers if you have special request on the trucks, like add extra fuel tank, pump and PTO etc.
3. The suppliers recommend and quote the suitable truck model for you.
4. Doing business negotiate with your suppliers in price, order quantities, delivery time, and payment term and sign a proforma invoice/ Sales contact.
5. You take the proforma Invoice/ Sales contract to local international bank and paid on T/T(telegraphic transfer)through bank.
6. The supplier start production after received your deposit, they will send you the videos and photos during production.
7. After finished production, the supplier will invite you come to China to inspect the truck. If you are busy and no time to visit, we will send you the finished photo and test video of truck.
8. After you confirmed the trucks are okay, we will start the delivery.
9. You need to do the custom clearance after received the trucks.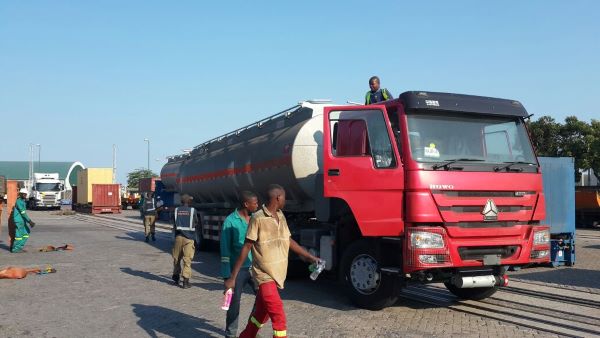 (HOWO Tractor truck with fuel tanker trailer on the Dar es salaam port, Tanzania, Africa)
3.2 Price and Delivery time of HOWO tractor truck
1. The price for a HOWO E7G380 model truck is about USD 31500 to USD 36500
The price for a HOWO Model truck is about USD 32500 to USD 37500
The price for a HOWO A7 model truck is about USD 34500 to USD 39500
2. Delivery time of HOWO tractor truck.
The production time of HOWO trucks is about 15 days to 30 days.
If you are located in Asia, the shipping time is about 7 days to 30 days.
If you are located in Africa, the shipping time is about 35 days to 60 days.
If you are located in South America, the shipping time is about 40 days to 70 days.
3. Delivery method
① 2 units tractor trucks load by one 40FT flat rack container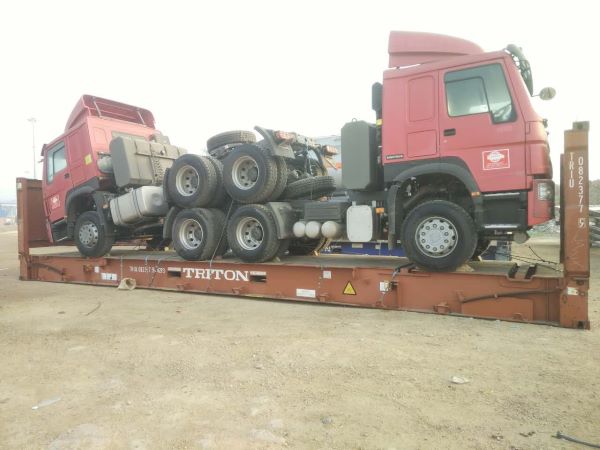 ② Loading by bulk ship or ro-ro ship.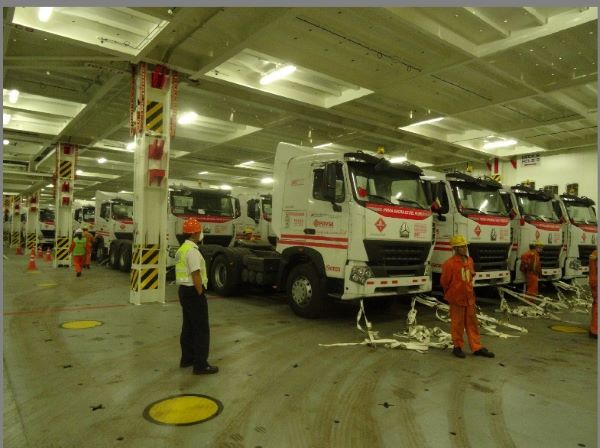 We advise you arrange the order of trucks two month in advance if you import from China.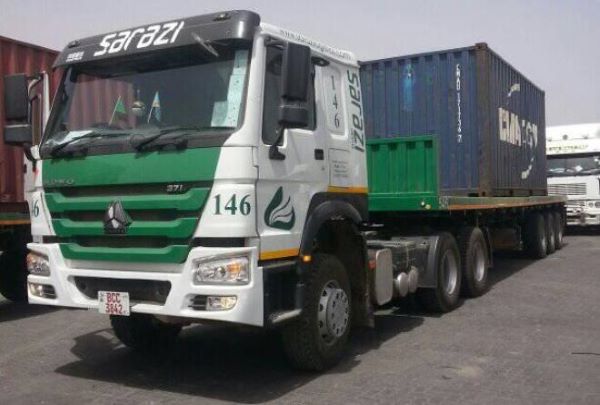 (HOWO TRACTOR TRUCK USE TO PULL THE FLATBED TRAILER IN ZAMBIA)
3.3 How to supply the warranty and sales service if buy HOWO truck from China?
The HOWO trucks have 12 month free warranty. During the warranty term if the engine, transmission, Steering broken down, we will dispatch the technicians to change those spare parts free of charge or deliver those parts to you freely by air.
If outside of the warranty terms, the spare parts have problems .The HOWO truck supplier can supply the spare parts to you in cost price, you can also buy the spare parts locally.
When you purchase the HOWO trucks, The HOWO truck factory will supply the operation manual and maintain manual. Once you maintain the trucks engine regularly according to the manual. The truck engines need not to do overhaul for at least 5 years.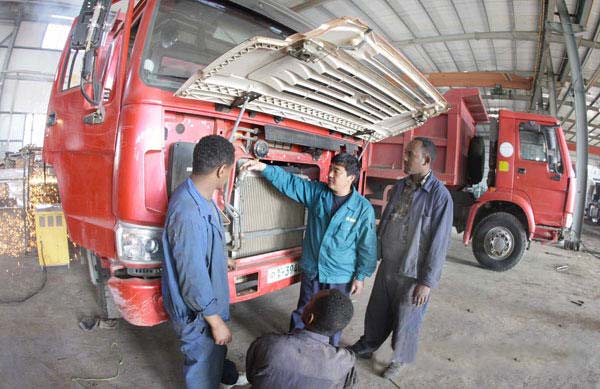 (HOWO truck maintain service in Africa)
Conclusion
Hope this article can help you to learn more about the advantage of HOWO trucks and how to order the HOWO trucks from China.
HOWO series products are unique models of Sinotruk. It reflects the design concept of Sinotruk's heritage and innovation. While inheriting the superiority of traditional Sinotruk technology, it also continuously meets the needs of users in the new era. It will become a model of heavy truck quality with "economy and practicality".
Sinotruk is a responsible company. We will be market-oriented and customer-oriented and ensure the product quality is reliable, practical, and adaptable through a hundredfold effort, and obtain good returns from the market.