What is the fuel tanker semi-trailer?
Jul,24 2018
Fuel tanker semi-trailer is a vehicle pulled by the tractor truck to transport fuel, oil, Petroleum.
Comparing to the fuel tanker truck, the fuel tanker semi-trailer have a higher efficiency in fuel transportation. In the situation of same payload, it can reduce the transportation cost and save the fuel consumption. So it is widely used in long-distance transportation.

Do you know how to comprise a fuel tanker semi-trailer ?

The fuel tanker semi-trailer is comprised of the tanker body and chassis.
1. Tanker body: Use the high tensile steel Q345 with a minimum thickness of 5mm for the tank shell and 6mm for the dish ends to produce the tanker body.
2. Chassis: Heavy duty and extra durability design. Opting for high tensile low carbon alloy Q345B steel, I beam welded by automotive arc-submerge process. The Kingpin, Landing gear, axles, suspension and tires etc. Opting the famous Chinese and foreign brand like: Fuwa brand, Jost brand, Bpw brand etc. to ensure the performance and durability of semi-trailer.
The tanker trailer can also be design to transport water, ethanol, acid, bitumen and other chemical cargo.
SUNSKY can produce the fuel tanker semi-trailer as per the ADR standard and China standard .It have a good Adaptability in the African road .The gravity center of tanker is designed as low as possible to avoid the overturn. It can ensure your transportation safety in maximum extent.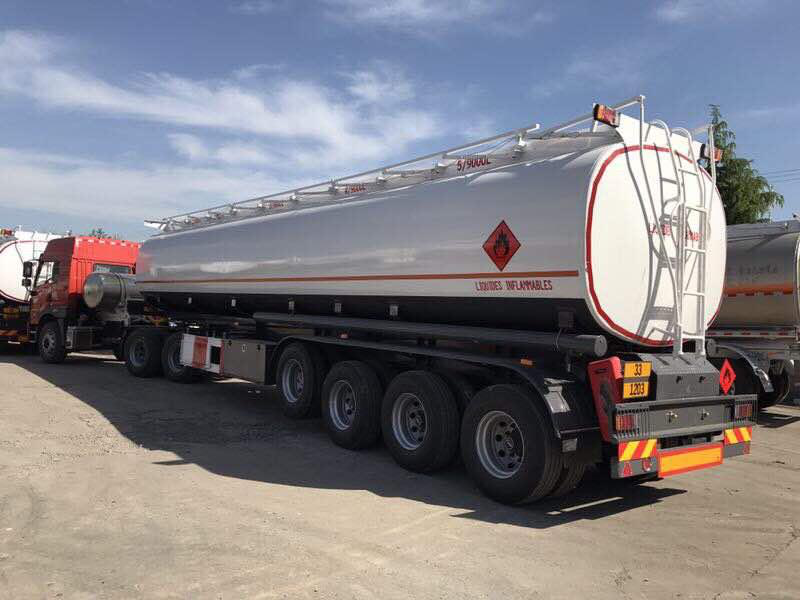 (45000 liters fuel tanker trailer with ADR standard deliver to Burkina Faso fuel)
(40000 liters fuel tanker trailer very popular in South and east Africa: Malawi, Tanzania etc.)