Cheap 40000 liters fuel tanker trailer for transport petroleum
Lead Time:

35 working days

Product Orgin:

China

Brand:

SUNSKY brand

Shipping Port:

Any port in China

Payment:

T/T,L/C at sight

Price:

$23500/unit

Market Price:

$24500

Price Range:

10-50/22500$

Color:

Option
Contact Now
Description
CHEAP 40000 LITERS FUEL TANKER TRAILER FOR TRANSPORT PETROLEUM
1.SUNSKY 40000 LITERS FUEL TANKER TRAILER with heavy duty and extra durability design,opting for high tensible low carbon alloy Q345B steel.I beam welded by automotive arc-submerge process.
2.The gravity center of SUNSKY tanker trailer is be designed as low as possible to minimize the risks of overturns.More suitable use in African road.
3.With Full braking and electrical systems at home and abroad in accordance with ISO standard, optional ABS system, braking, lighting is absolutely safe and reliable.
4.Quality guarantee ,Some easily broken parts will be delivered with trailers.One year warranty in the steel structure.
Specification:
‑‑‑‑‑‑‑‑‑‑‑‑‑‑‑‑‑‑‑‑‑‑‑‑‑‑‑‑‑‑‑‑‑‑‑‑‑‑‑‑‑‑‑‑‑‑‑‑‑‑‑‑‑‑‑‑‑‑
40,000L 3 axles fuel tanker trailer
Compartment number: 3
Effective Cubage: 40,000L
Axle: 13T,3 axles
Suspension: steel suspension with 8pcs leafs spring
Type of landing leg and capacity: 19"
Kingpin: 3.5" BOLT-IN
Tires:12R22.5(13 Sets)
Rim: 9.00*22.5 (13 Sets)
Braking system: Dual-line air brake system
Manhole: 20 inch
Discharge valve: 3 inch
Discharge system: Pneumatic operating
Discharge hose: 3pcs of 3 inch
Bottom valve: 3pcs of 4inch
Production detail:
‑‑‑‑‑‑‑‑‑‑‑‑‑‑‑‑‑‑‑‑‑‑‑‑‑‑‑‑‑‑‑‑‑‑‑‑‑‑‑‑‑‑‑‑‑‑‑‑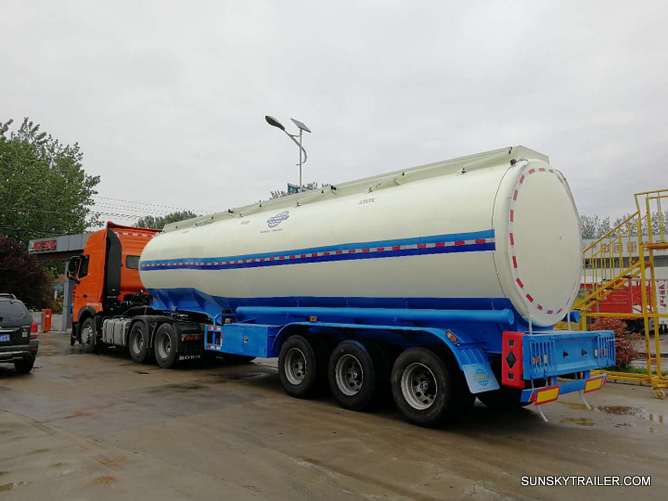 FAQ:
‑‑‑‑‑‑‑‑‑‑‑‑‑‑‑‑‑‑‑‑‑‑‑‑‑‑‑‑‑‑‑‑‑‑‑‑‑‑‑‑‑‑‑‑‑‑‑‑‑‑‑‑‑‑‑‑‑‑
1. Who are we?
Answer: We are a group company; we have three semi-trailer factories in china, one trading company in china and one company inHong Kong. We are focus on semi-trailer, trucks and parts.


2. Why choose us


Answer: 1) We have more than 30years experience in the trailer manufacturing. Our brand"SUNSKY" and"JUPITER" had got high reputation in china and overseas countries.
2) We have more than 20 engineers to design the kinds of trailers according to the requirement from you.
3) We had exported thousands of trailers to Africa, Middle East, Asia,Australia,South America and so on since 2006.
4) We are one of the biggest dealers of SINOTRUK HOWO truck in china, we can supply kinds of HOWO brand truck with competitive price.