HOWO 6X4 tractor truck with 336 HP Euro II Engine
Lead Time:

30 working days

Product Orgin:

China

Brand:

HOWO brand

Shipping Port:

Any port in China

Payment:

T/T,L/C at sight

Price:

$34500/unit

Market Price:

$36500

Price Range:

10-30/33500$

Color:

White
Contact Now
Description
Item: HOWO 6X4 tractor truck with 336 HP Euro II Engine
Feature of BRAND NEW HOWO TRACTOR TRUCK
1. HOWO Tractor Trucks supplier are widely used in transportation and delivery of coal, mineral, iron powder, steel slag, lime ash, stone, sand, wood, cement and other bulk cargo and so on.
2. HOWO Tractor Trucks factory use perfect Diesel Engine, high-quality Axles, perfect Suspension Systems, reliable Tires and large load capacity ensure the good performance
3. HOWO Tractor Truck is equipped with stable and modern structure and owns many practical functions. Our advanced production technology and the best test equipment can make the Tractor Truck presents a reliable, stable and modern structure.
Why choose HOWO 6X4 TRACTOR TRUCK
1. The top brand Truck in China,exported more than 10,000 units worldwide.
2. One years free warranty terms for the engine, transmission, Steering.Some easily broken parts will be deliver to you with trucks.
3. Spare parts support services.
Quality guarantee of Howo tractor truck for Africa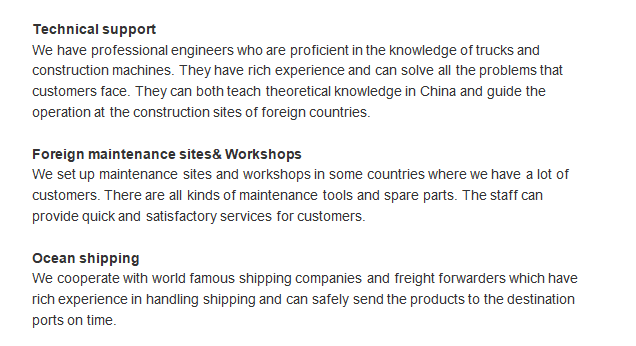 Specification of HOWO 6X4 TRACTOR TRUCK PRICE
Model & Specification of Commodity
SINOTRUK HOWO 6X4 TRACTOR HEAD TRUCK
LEFT HAND DRIVE
Model: ZZ4257V3241W
Made Year: 2019, Brand New, Produce according to order
Cabin: HW76 cabin, with single sleeper, double seats, with air conditioner, higher position metal bumper
Engine: WD615.69, 371HP, Euro II emission standard;
4-stroke direct fuel injection diesel engine(mechanical type)
Transmission: HW19710 (10 forwards and 2 reverses, manual)
Front axle: HF7 (7000Kg) (drum brake)
Rear axle: MCY 13Tons (2x13000Kg) (i=4.11) (drum brake)
double stage central reduction + hub reduction
Suspension: leaf springs (Front 3 pieces, Rear 12 pieces)
Chassis: TGA GERMAN MAN TECHNOLOGY
Tires: 12R22.5, tubeless, with one spare tire
Fifth Wheel: 3.5''
Fuel tank: 400L, aluminum with locking cap
Steering: German ZF8198 power steering, hydraulic steering with power assistance, ratio: 22.2-26.2
Overall Measurements: 6800*2550*3200 mm
With Integrated mudguard
Color: Optional (white, yellow, green, red, silver, sky blue etc.)