HOWO 6x4 Tractor Truck
2023-06-20
HOWO 6x4 Tractor Truck
is a tractor vehicle with 6 drive shafts and 4 steering wheels, produced by Sinotruk Group.
Parameters of HOWO HP430 left hand drive
Made Year: Brand New, Produce according to order
Cabin: HW76 cabin, with single sleeper, double seats, with
air conditioner, higher position metal bumper
Engine: 371HP/420HP, Euro II emission standard;
4-stroke direct fuel injection diesel engine(mechanical type)
Transmission: HW19710 (10 forwards and 2 reverses, manual)
Front axle: HF7 (7000Kg) (drum brake)
Rear axle: ST16 (2x16000Kg) (i=3.93, 4.42, 4.8) (drum
brake)
double stage central reduction + hub reduction
Suspension: leaf springs (Front 3 pieces, Rear 12 pieces)
Chassis: TGA GERMAN MAN TECHNOLOGY
Tires: 12R22.5, tubeless, with one spare tire
Fifth Wheel: 2 or 3.5'' Fuel tank: 400L, aluminum with locking cap
Steering: German ZF8198 power steering, hydraulic
Steering with power assistance, ratio: 22.2-26.2
Overall Measurements: 6800*2550*3200mm
Color: Optional (white, yellow, green, red, silver, sky blue
etc.)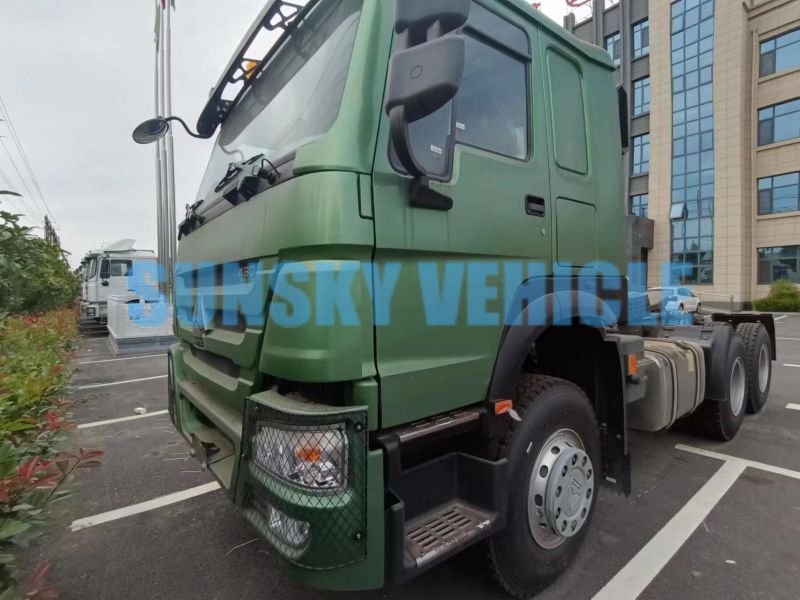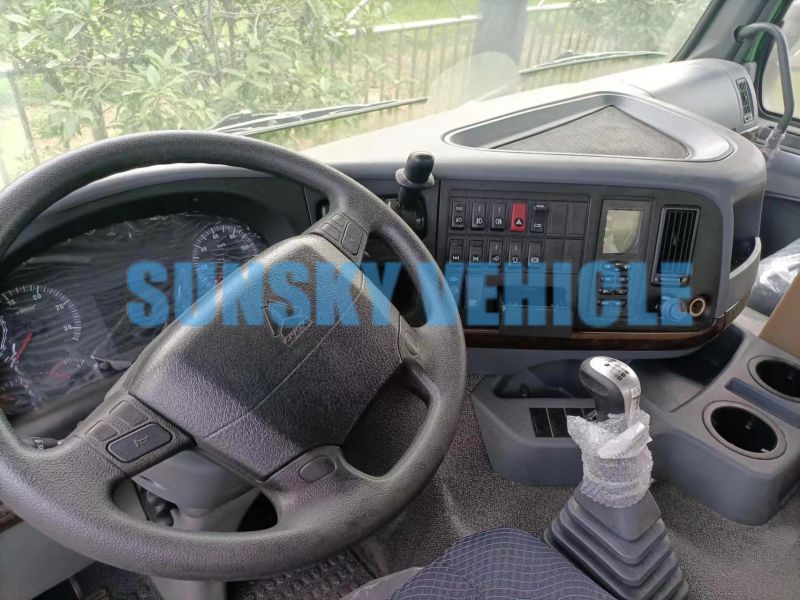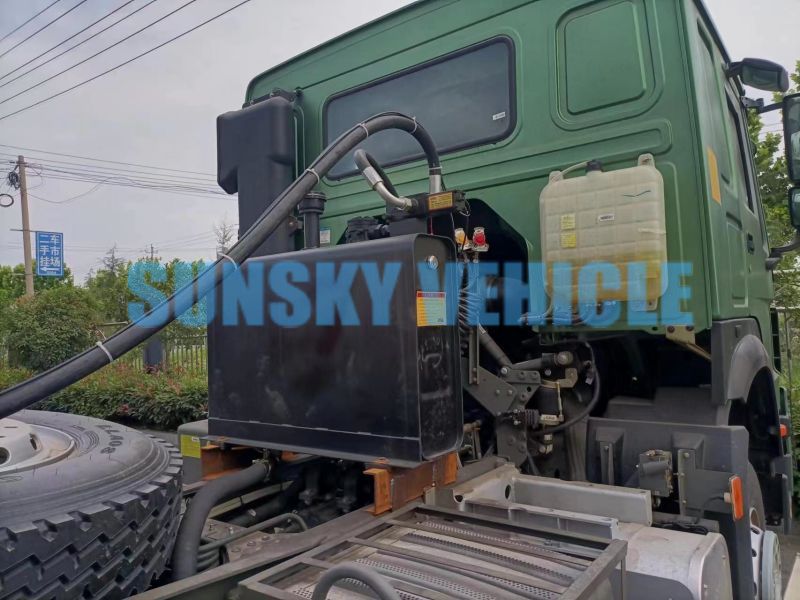 Features of howo 6x4 tractor truck
Powerful power: HOWO 6x4 tractor is equipped with a high-performance engine, usually a diesel engine. This engine has high power and high torque, providing strong power to the tractor to cope with challenges such as heavy loads and steep slopes.
Good handling: The tractor uses 4 steering wheels and an advanced suspension system to provide good handling performance. This makes it easier for the driver to steer and control the vehicle, especially on narrow roads, city traffic or complex road conditions.
High carrying capacity: HOWO 6x4 tractor has high carrying capacity, capable of towing and transporting large cargo or heavy semi-trailer. Its design and structure have been strengthened and strengthened to meet the high load transportation needs.
COMFORT AND SAFETY: The cab of this tractor is designed with the driver's comfort and safety in mind. Generous cab space, adjustable seats and high-quality sound insulation provide a comfortable driving environment. In addition, towing vehicles are equipped with advanced safety systems such as anti-lock braking system (ABS) and traction control system to improve driving safety.
Economy and Fuel Efficiency: HOWO 6x4 tractor adopts advanced fuel injection technology and energy-saving design to improve fuel efficiency and reduce fuel consumption. This helps to reduce operating costs and reduce environmental impact.
Reliability and Durability: This tow vehicle features a high-strength frame and reliable components to provide long-term stable operation and durability. It undergoes strict quality control and testing to ensure reliable performance and durability under different working conditions.
The parameters are only for reference, the HP430 left hand drive parameters you need to customize are subject to different configurations and market demands. If you want to know more information, you can consult sunskytrailer to obtain the most accurate parameter information before purchasing.