Rotary wind blade trailer adapter
Lead Time:

30 days

Product Orgin:

China

Brand:

SUNSKY brand

Shipping Port:

Any Port Of China

Payment:

T/T; L/C

Price:

$16300/21000

Market Price:

$20000

Color:

optional
Contact Now
Description
How does wind blade adapter works?
This type of wind blade adapter does not adopt the pull structure of ordinary blade transporter trailer, but adopts another idea, which directly "grabs" the blade through the hydraulic workstation, and lifts it up in the air to realize the transportation of the super-long blade with a shorter trailer length.
In the process of transportation, the hydraulic control can make the wind blade rotate 360 degrees, the wind blade through the lower slewing support and the annular slide can rotate the maximum angle of 360 degrees, the wind blade through the expansion of the oil cylinder so that the maximum angle of the wind blade is 60 degrees.
Compare to ordinary wind mill blade trailers, especially for wind blade trailer in mountainous areas. The design of wind blade adaptor transporters solve the problem of mountain transportation to a certain extent, especially in the face of extreme curves.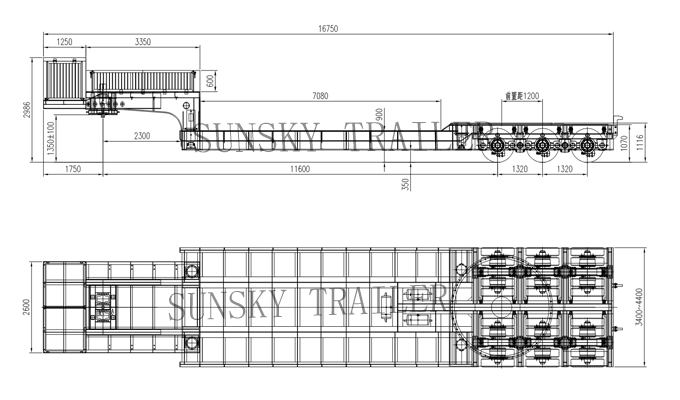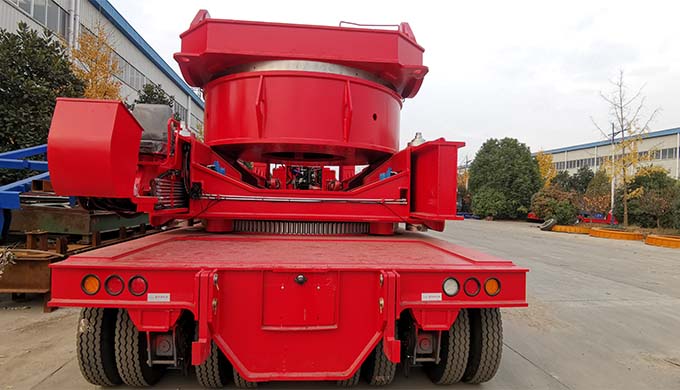 Specifications of wind blade adapter
Trailer Specification

Type

510 ton*meter rotary wind blade trailer

Dead weight

70,000kg

Trailer part

Overall size

16750*1116*3400mm(Outside distance of tire 3400-4400mm)

Fifth wheel height

1350±100mm

Payload

100,000kg

Chassis

Heavy duty and extra durability designed ; opting for high tensile steel, welded by automatic submerged-Arc process. Middle flange height 900mm.Clearance 350mm.

Wheel base

11600+1320+1320mm

Landing gear

Hydraulic landing gear

King pin

3.5'' bolt-in king pin.

painting

Complete chassis sand blasting to clean rust. I coat of anticorrosive prime,2 coats of final paint.

Vehicular applications

Wind blade transport

suspension

rigid suspension

Leaf spring

None

axle

3 lines 6 axles, 100T

Brake system

Double line brake system;

Brake chamber

6 chambers

Tire & rim

10.00R20 24 units, Giti tires; Zhengxing rim

Wind blade adapter

Overall size

10420*3400*3865mm

Elevation

0-36°, double lifting cylinder

Rotation

360° rotary angle, Hydraulic 4WD full rotation

Pitch mode

360 ° rotary angle, Hydraulic 2WD(4WD optional) full rotation

Extension

0-4000mm, double pulling cylinder

Weighing

4-points gravity surveying

Electrical system

Voltage /lamp

24V with LED light

receptacle

7way socket SAE standard

wiring

Electric cable protected by PVC conduit on main frame.

Hydraulic system

Power unit

four cylinder diesel engine, 46kw

cylinder

20 cylinders

Accessories

Mud guard

yes

Accessories

yes