SUNSKY BRAND 40,000L 3-axle Fuel Tanker Semi-trailer
Item NO.:

SS9360GRX

Lead Time:

25-40DAYS

Product Orgin:

CHINA

Brand:

SUNSKY brand

Shipping Port:

ANY PORT, CHINA

Payment:

T/T; L/C at sight

Price:

$18500/Unit

Market Price:

$32000

Price Range:

10-50/16800$

Color:

White
Contact Now
Description
Product Item:SUNSKY BRAND 40,000L 3-axle Fuel Tanker Semi-trailer
Features
1) The capacity is 40 cbm,tanker with 1-8compartment on your request. Other capacity from 30000 liters to 50000 liters is optional, we can also supply the other material tanker like aluminum or stainless steel tanker trailers.
2) We supply two years guarantee term provided freely.
3) Popular model used in Philippines market, we can also custom-built the fuel tanker trailer as your requirements.
4) Ensure to meet your local road regulation,door to door service to Manila area,Philippines is available.
Specification
40,000L 3-axle Tank Semi-trailer

Feature:

Carry Fuel, Oil, Diesel, Drink water, Milk, Beer and other chemical liquid

Dimension(L*W*H):

11500*2500*3750mm

Model

SS9360GRX

Material:

Carbon Steel

Aluminum Alloy

Compartment:

1-8

Capacity(kgs):

40,000L

Tare weight(kgs):

9,200-10,200kgs

6,000-7,000kgs

Kingpin

Fuwa brand bolt-in 3.5"/2"

Landing gear

Fuwa brand two-speed manual operation 19"

Tire size

11R22.5、12R22.5、315/80R22.5

Rim size

8.25*22.5、9.00*22.5、11.75*22.5

Axle

FUWA-13Tons, Tri Axle

Leafs spring

Fuwa brand with 8pcs of leafs spring/ Airbag suspension

Brake system

One unit WABCO RE 4 relay valve; four units T30/30 spring brake chamber; two units T30 spring brake chamber; two units reliable local brand 45L air tank; two units reliable local brand standard coppery air-connector.

Manhole:

Aluminum alloy ø500mm(20") manhole with aluminum alloy cover; with breather valve;

Discharge Valve

Aluminum alloy discharge valve with cover

Foot Valve

Pneumatic control DN80 aluminum alloy foot valves

Pneumatic Control system

1set Pneumatic Control combined switch

1unit emergency switch

Discharge Hose

2 units 3"×6M factory PVC hose with quick coupling on both ends

Vapor Recovery & Overfill system

Optional

Fire Extinguisher Carrier

2 units at the left of rear of tanker, include 2 units 8kg dry powder type fire extinguisher inside

Electric system:

One unit of 24V 7-pin ISO standard socket; with brake light, turn light, reverse light, side light, reflector, fog light; one set of 6-pin standard cable

Prime & Topcoat painting

S.A.2.5standard sandblasting ;Zinc-rich & Polyurethane painting

We can build the trailers according to customer's design and requirement
Detail Photo of Fuel Tanker Trailer
1.Overview of fuel tanker trailer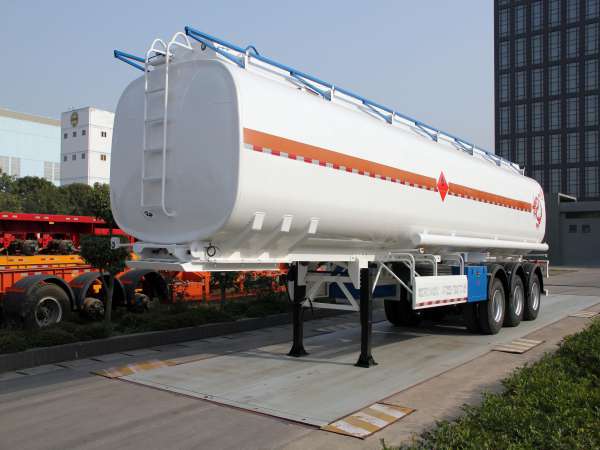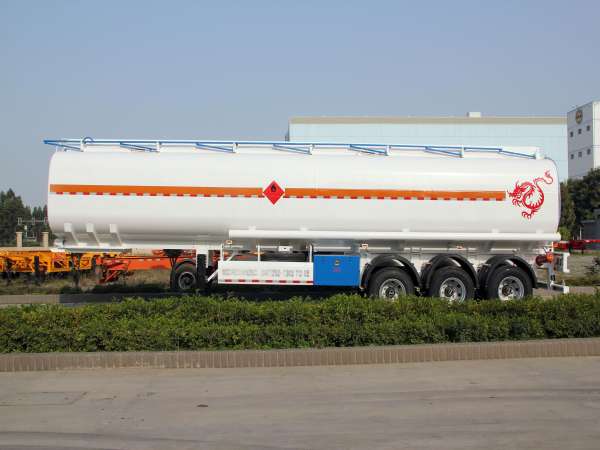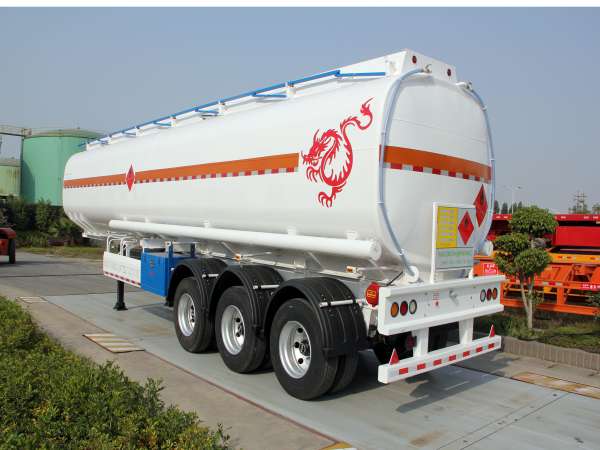 2. Details parts of fuel tanker trailer
Side guard on fuel tanker trailer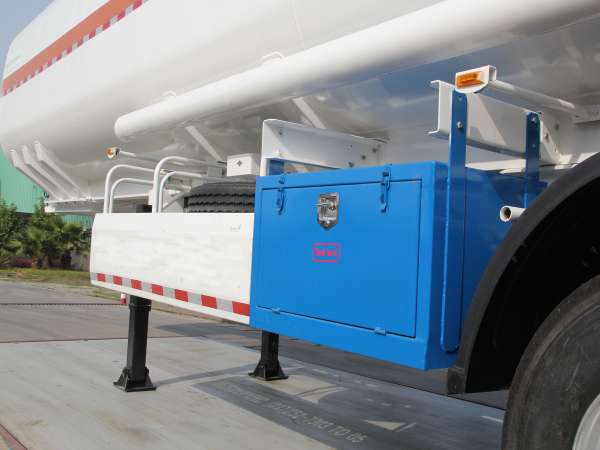 Fire extinguisher equipment on fuel tanker trailer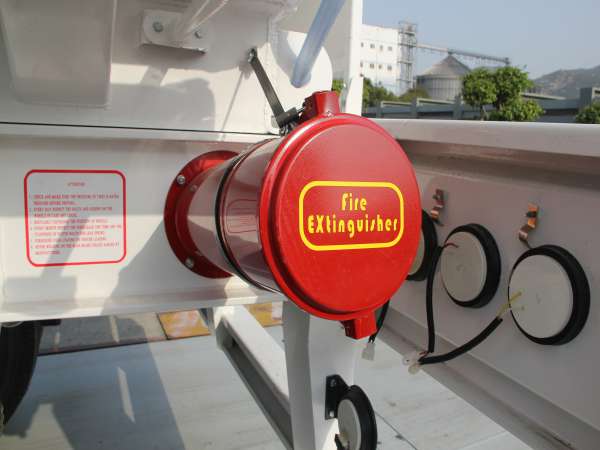 Advanced european design discharge pipe system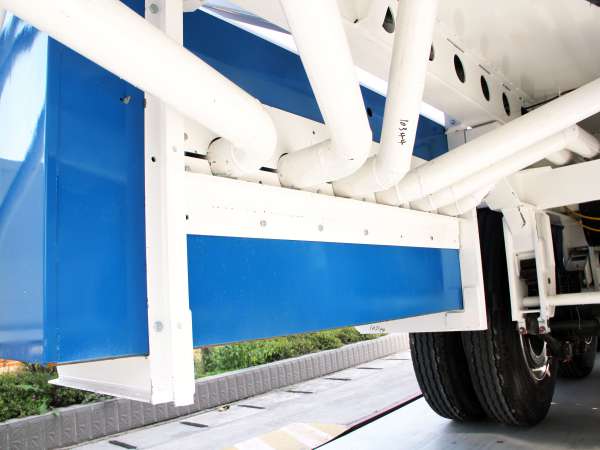 Durable Fuwa brand 19" double speed langding gear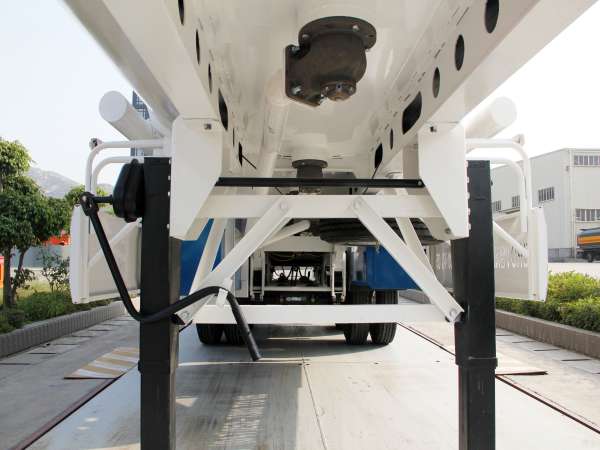 FAQ
1. What is the payment methods to order the fuel tankers ?Do you supply the financing services?
For the payment we accpet is T/T (Cash) or L/C. For the fuel tanker trailer we sell is in very low profit, We do not supply the financing services.It will increase the cost.
2. How many days can i received the fuel tanker trailers if i make the order?
It will cost about 30 days for production, 7 days shipment from China to Philippines and the customs clearance need cost about 7 days.
If you have any more other problems welcome to contact with us to learn more information!