26,000L SINOTRUK HOWO Fuel Tanker Truck
Lead Time:

20 to 30 days

Product Orgin:

China

Brand:

HOWO brand

Shipping Port:

Any Port Of China

Payment:

T/T; L/C

Price:

$16300/17000

Market Price:

$16400

Color:

optional
Contact Now
Description
Detail
1.Transport medium: SINOTRUK HOWO Fuel Tanker Truck suitable for transporting gasoline, kerosene, diesel oil, vegetable oil, edible oil, heavy oil, coal tar and non-petroleum products of alcohol, aldehyde, benzene, ether and other liquid substances.
2.Tank material using high quality 4-6mm thick carbon steel national standard plate can be used carbon steel, stainless steel, according to the need can also be used aluminum alloy, pure aluminum cans, rubber lining, rolling plastic, plastic cans, glass fiber reinforced plastic cans.
3.Tanks are square and round, oval and round.
4.Oil pump has self-priming pump, gear pump, double pump.
5.Can be designed to be a special vehicle for chemical transportation.
6.Can be separated into separate warehouses to carry different oil products. It can realize pump into pump out, gravity flow, optional flow meter, computer tax control tanker, 15 meters refueling reel (automatic return), the tank is equipped with a multi-channel anti-wave baffle, so that the tank has high strength, stable center of gravity, safe and stable vehicle carrying characteristics.
All the tank trailers can be designed into chemical vehicles, all kinds of heating insulation series tank.All oil tankers can be equipped with computer refueling machines.Wide range of tonnage options to meet user needs.The tank body is provided with a plurality of anti-wave dividers. Using high pressure gas leak test detection, so that the tank has high strength, stable center of gravity, vehicle carrying safety and stability, etc.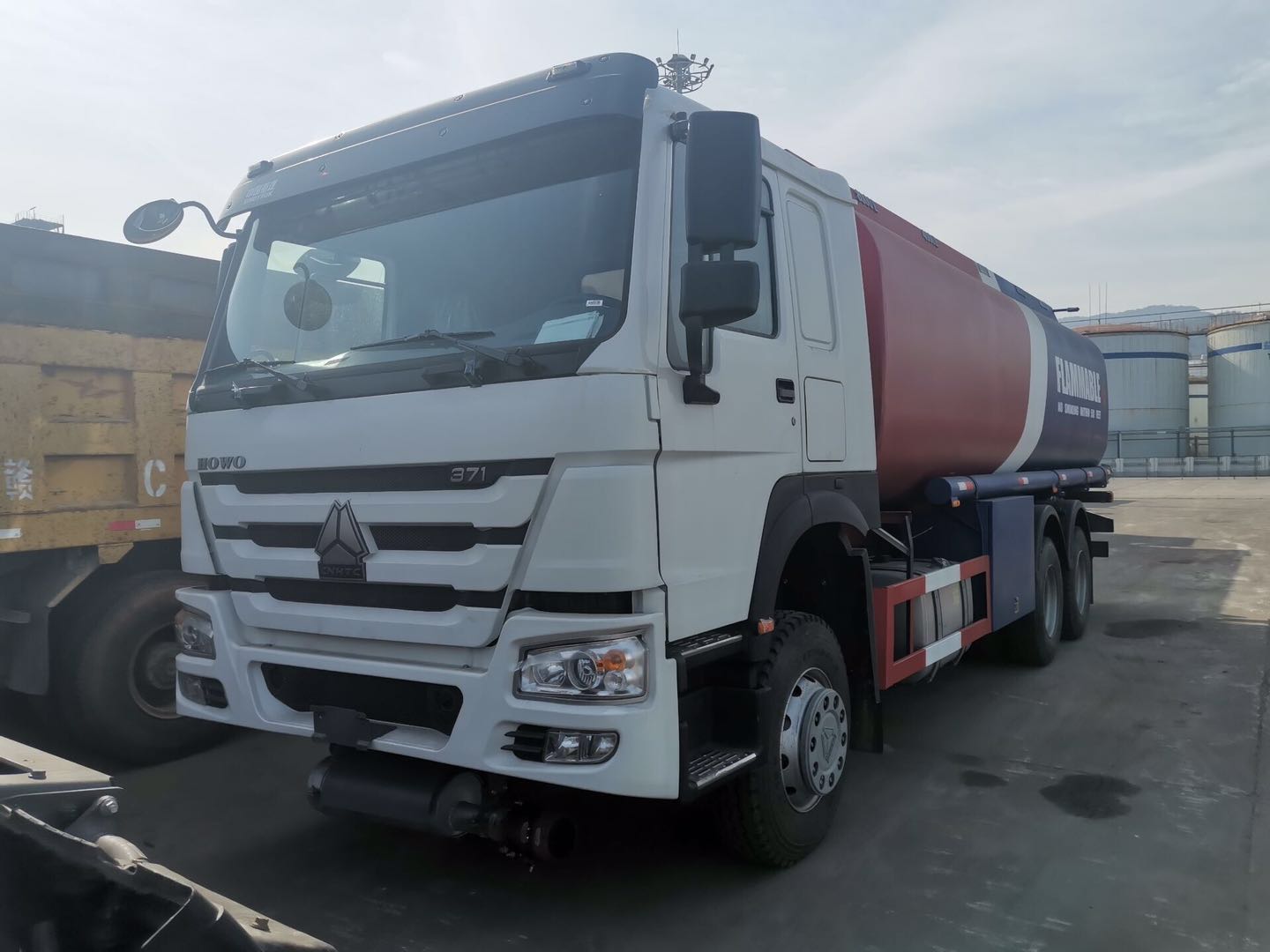 Specification
LEFT HAND DRIVE
Maker: SINOTRUK
Model: ZZ1257S4641W
Driving type: 6x4
Made year: 2021, brand new, produce according to order
Cab: HW76, with one sleeper, double seats, with A/C, with high steel metal bumper, exhaust pipe proposed with spark arrestor
Engine: WD615.47, 371HP, Euro II emission standard
Transmission: HW19710 (10 forwards and 2 reverses, manual)
PTO: HW70
Front axle: HF9 (9000Kg) (drum)
Rear axle: HC16 (2x16000Kg) (i=4.8) (drum)
Suspension: Enhanced version of multiple-leaf spring (Front 10 pieces, Rear12 pieces)
Tires: 12R22.5, tubeless, with one spare tyre
Fuel tank: 400L
Steering: LHD, German ZF8098 power steering, hydraulic steering with power assistance, ratio: 22.2-26.2
Overall Measurements:10200x2550x3300mm
Tank Volume: 26 Cubic meters, with pump, 5 compartments, thickness of ends 6mm, thickness of body 5mm, thickness of separating plate 4mm; 5 sets of European standard manholes and fuel position rules, subsea valves, European standard offloading valves; with 0-reset flow meter.