40ft Tri Axle Skeletal Trailer Chassis
Lead Time:

30-40 Working Days

Product Orgin:

China

Brand:

SUNSKY brand

Shipping Port:

Any Port in China

Payment:

T/T,L/C

Price:

$10500/unit

Market Price:

$11000

Price Range:

10-50/9800$

Color:

Yellow
Contact Now
Description
Item: 40ft Tri Axle Skeletal Trailer Chassis
Why choose to buy our skeletal chassis trailer?
‑‑‑‑‑‑‑‑‑‑‑‑‑‑‑‑‑‑‑‑‑‑‑‑‑‑‑‑‑‑‑‑‑‑‑‑‑‑‑‑‑‑‑‑‑‑‑‑‑‑‑‑‑‑‑‑‑‑
1. SUNSKY container skeletal trailers are mainly suitable for the transportation of containers and container tanker.
2. The main frame of skeletal chassis is made of 16Mn high-tensile steel,reasonable structure,superior carrying capacity and no permanent deformation.
3. The axle,tyre and other accessories of container trailer are the well-known products which supplied by the domestic and foreign professional manufacturer.
4. The shipping container trailers have steady performance,long life span and excellent antiseptic performance on painting.
Features: tri axle skeletal trailer
‑‑‑‑‑‑‑‑‑‑‑‑‑‑‑‑‑‑‑‑‑‑‑‑‑‑‑‑‑‑‑‑‑‑‑‑‑‑‑‑‑‑‑‑‑‑‑‑‑‑‑‑‑‑‑‑‑‑
1) Manufacturer, 32 years professional experience on produce skeletal trailers.
2) Two years guarantee term provided freely for all semi-trailers
3) Export more than 1000 units trailers to Africa, Southeastern Asia, and South America.
4) All semi-trailers products can be custom-made according to your design.
Specification: skeletal semi trailer
‑‑‑‑‑‑‑‑‑‑‑‑‑‑‑‑‑‑‑‑‑‑‑‑‑‑‑‑‑‑‑‑‑‑‑‑‑‑‑‑‑‑‑‑‑‑‑‑‑‑‑‑‑‑‑‑‑‑
40FT 3-axle Skeleton semi trailer

Feature:

Carry 1X20FT、1X40FT、or 2X20FT container

Dimension(L*W*H):

12420*2480*1540mm

Main frame:

Heavy duty and extra durability design; Opting for high tensible low carbon alloy Q345B steel; I beam welded by automotive arc-submerge process

Model:

SS9370TJZG

No. of axle:

3

Payload(kgs):

50000

Tare weight(kgs):

5600

Kingpin:

The world-famous JOST brand bolt-in/welded type 3.5"/2"

Landing gear:

JOST brand two-speed manual operation 19"

Tire size:

11.00R20、11R22.5、12R22.5、315/80R22.5、385/65R22.5

Rim size:

8.25*22.5、9.00*22.5、11.75*22.5

Axle:

Original BPW-12T/ FUWA-13T

Suspension

Germany type with 12pcs of leafs spring/ Fuwa brand with 8pcs of leafs spring/ Airbag suspension

Brake system:

Dual line with WABCO brand Re-6 emergency relay valve, MBA brand T30/30 air chamber, 46L air tank

Electric system:

One unit of 24V 7-pin ISO standard socket; with brake light, turn light, reverse light, side light, reflector, fog light; one set of 6-pin standard cable

Container locks

12(for 1x20GP,2X20GP,1X40HQ)

Painting:

S.A.2.5standard sandblasting; Two coat of anti-corrosion prime; one coat of finish painting

Accessory:

One tool box; one set of standard tool

We can build the trailers according to customer's design and requirement
Production detail: container skeletal trailer
‑‑‑‑‑‑‑‑‑‑‑‑‑‑‑‑‑‑‑‑‑‑‑‑‑‑‑‑‑‑‑‑‑‑‑‑‑‑‑‑‑‑‑‑‑‑‑‑‑‑‑‑‑‑‑‑‑‑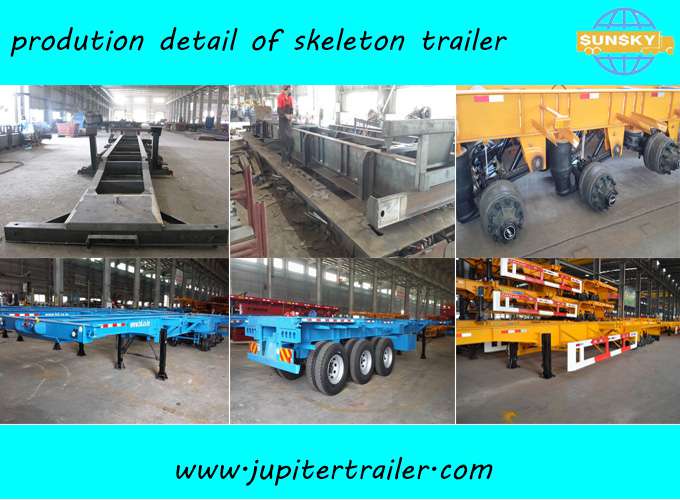 Producing process:
‑‑‑‑‑‑‑‑‑‑‑‑‑‑‑‑‑‑‑‑‑‑‑‑‑‑‑‑‑‑‑‑‑‑‑‑‑‑‑‑‑‑‑‑‑‑‑‑‑‑‑‑‑‑‑‑‑‑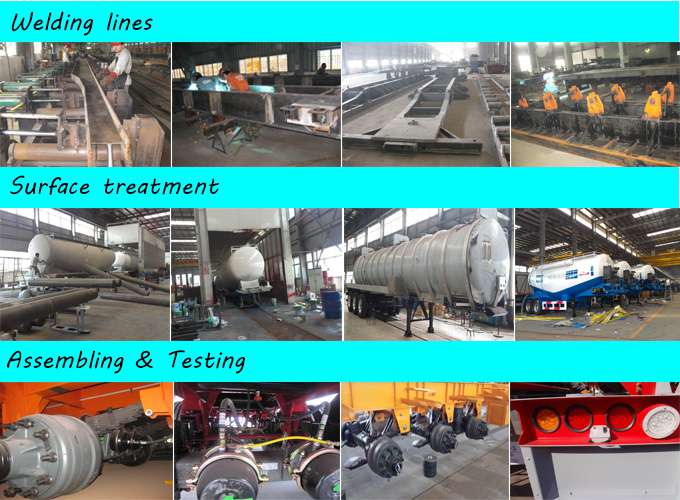 Loading and Packing:
‑‑‑‑‑‑‑‑‑‑‑‑‑‑‑‑‑‑‑‑‑‑‑‑‑‑‑‑‑‑‑‑‑‑‑‑‑‑‑‑‑‑‑‑‑‑‑‑‑‑‑‑‑‑‑‑‑‑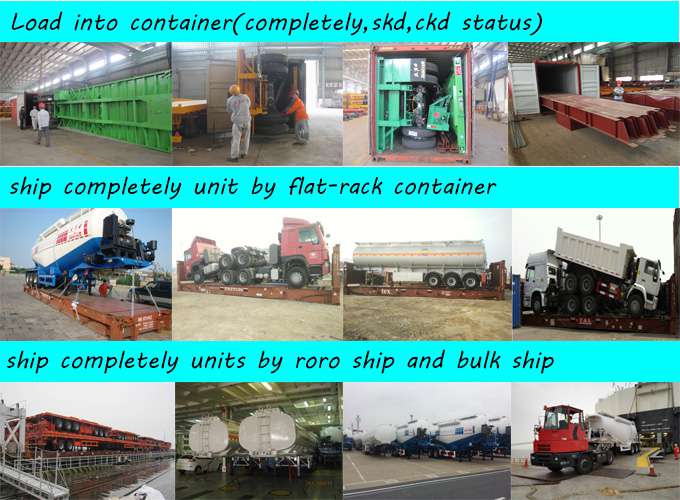 Our advantage and ability:
‑‑‑‑‑‑‑‑‑‑‑‑‑‑‑‑‑‑‑‑‑‑‑‑‑‑‑‑‑‑‑‑‑‑‑‑‑‑‑‑‑‑‑‑‑‑‑‑‑‑‑‑‑‑‑‑‑‑