Common Usages and Types of Tractor Heads
2021-11-18
One of the vehicle kinds designed to haul a trailer is the Tractor Head. It is often referred to as "Tractor Head," but it is also known as "Prime Mover" in other nations and "Trailer Head" in Japan. The motive force for transporting a towed or trailered load comes from the heavy-duty tow motor. Heavy- & medium-duty commercial and military rear-wheel-drive semi-tractors used it to carry semi-trailers, and very heavy-duty generally off-road -capable military and commercial tractor units, including ballast tractors, are divided into two groups.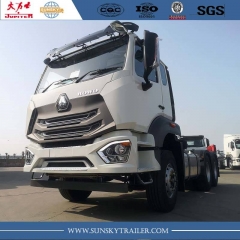 Diffrent types of tractor heads and tow trucks
● Semi-trailer towing tractor head
It can only be mounted on the back wheels and cannot lift the trailer's top end with the front supplementary foot.
● The full tractor head
It has front and rear wheels and is designed to pull a trailer that is not self-propelled but can stand on its own. It may be simple for you to picture a train pulling a freight vehicle that isn't self-propelled.
● Wheel-lift tow truck
The mechanism of wheel-lift tow trucks is identical to that of hook and chain tow trucks. Nevertheless, instead of chains, they employ a metal yoke, which is less damaging to the pulled car. Under the rear or front wheels, the metal yoke is hooked. A pneumatic hoist or hydraulic lift suspends the vehicle's back or front end from the ground, allowing it to be lifted and pulled away. The entry wheels of front-wheel-drive cars pull the vehicle forward. Wheel-lift tow vehicles are less expensive than flatbed tow trucks, however, they are not as safe or protected.
One of the most popular and frequently utilised towing vehicles in the world is the flatbed tow truck. The bed of a flatbed truck is long and empty, with a flat top. The flatbed is moved higher and downwards using hydraulic systems. Flatbed vehicles are convenient to utilise since you can either drive or have your car pushed up the ramp. They're also useful for moving automobiles that have experienced a breakdown or been in an accident. Flatbed tow trucks can haul a wide range of cars and watercraft. They are one of the safest ways of towing.
Common benefits of tractor heads
● Towing heavy-duty trucks
Tractor heads can come as a great rescue when it comes to towing heavy-duty trucks as they demand a lot of strength from the engine. In fact, without a good tractor head transportation and operation becomes highly inefficient.
● Increase the efficiency
The right kind of tractor header is the game-changer in a real manner and once you are able to fix the head with the truck, you will witness how significantly your efficiency has increased in terms of time and strength.
● Cost-effective
As it is clear that tractor heads reduce your effort and time consumption by increasing the overall efficiency, this eventually leads to a lot of money safe.
If you are looking for a tractor head for your business do contact
Sunsky Trailer
for the best services.