What is a Bulk Cement Transport Trailer | An Overview
2021-11-26
Bulk Cement Transport Trailer
Trailer Cement Transport Bulk IS AS Also Known Cement Trailers, Cement Tankers, and Pneumatic Trailers. With A Diameter of 0.01mm, IT IS Commonly Used to Transport Cement, Flour, Lime Powder, Mineral Powder, Fly Ash, and OTHER, or on problems of Bulk some powder materials.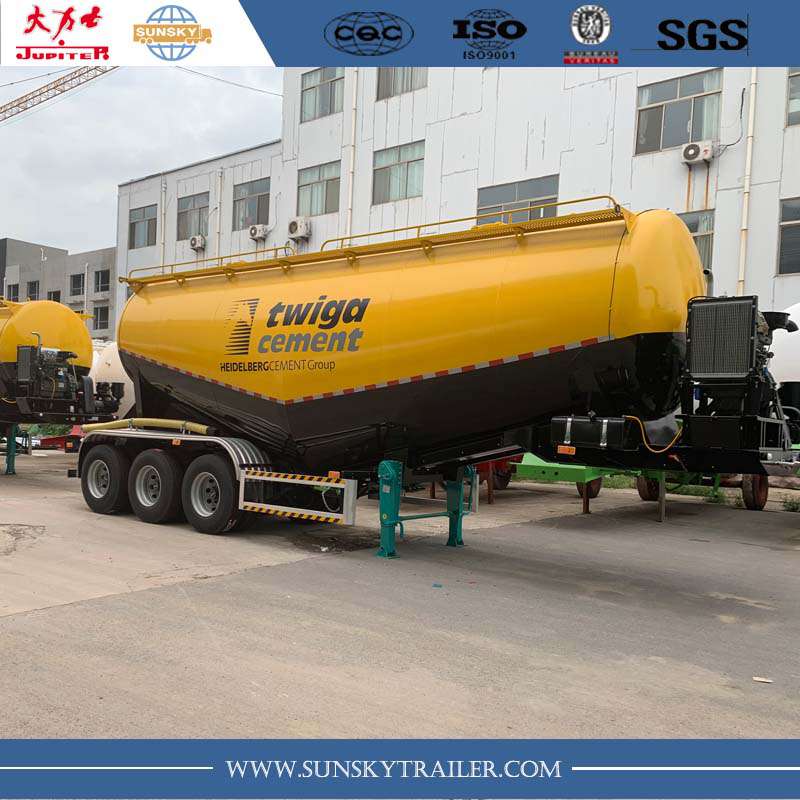 Bulk Cement Transport Trailer is common on large construction sites, cement plants, and warehouses. An air compressor is usually used on the bulk cement trailer to ensure that the powder comes out of the tank.
The Basic Design of a Bulk Cement Transport Trailer
1. Operating system
2. Power supply, the engine set supplies power to the air compressor; power take-off: the main function is to extract engine power and transmit it to the air compressor via the transmission shaft.
3. A portable air compressor
4. Air pipes, these include air intake, distribution, pressure relief, secondary blowing, and so on.
5. Tank, a sealed container used to load materials.
6. Loading and unloading device: the loading tank can be linked to the storage tower pipeline, which is controlled by a butterfly valve and used for material conveyance.
What Is The Primary Purpose Of The Bulk Cement Transport Trailer?
The Bulk Cement Transport Trailer is used to transport dry powder in bulk. The dry powder does not need to be packed with paper bags during the bulk transportation of powder, from the factory to the road, storage, and use.
Special trucks, trains, ships, containers, and other special vehicles will transport the dry powder. Many countries have embraced this mode of transportation due to its outstanding social and economic reputation.
How Should a Cement Bulker Be Used Safely?
If the

Bulk Cement Transport Trailer

has not been used in a long time, the air compressor should be started first and blown 2-3 times before restarting. Make a record after the experiment is successful, and then load the cement.
2. It is strictly forbidden to open the inlet cover when the tank has air pressure. The air release valve must first be opened. To confirm, the pressure indication value is zero. The inlet cover can be opened only when there is no air released from the air outlet pipe.
3. When unloading the cement to a common warehouse on the ground (no joint), the pressure must be slightly lower when the discharge valve is opened.
4. The use of brakes to increase loading capacity is specifically forbidden.
5. When loading, the feeding port should be equipped with a filter to prevent agglomerated cement, paper bags, cotton yarn, and other materials from entering the tank and causing problems with unloading.
6. Inspect the air compressor of the Bulk Cement Transport Trailer on a regular basis for lubricating oil leaks. It should be replenished as soon as possible to avoid causing damage to the compressor.
Concluding thoughts
To summarize, when purchasing a Bulk Cement Transport Trailer for the transportation of powdery materials, it is critical to consider all aspects. You are welcome to choose our company if you require semi-trailer products. We can offer a price consultation service and the best deals, only at https://www.sunskytrailer.com/